Fact: All of us need some kind of help in our lives! So when it comes to book publicity and book marketing, media are typically very responsive to self-help books and authors. Self-help authors are ideal for radio and TV interviews and as expert sources for newspaper, magazine, broadcast, and Internet media outlets. Se;f-help authors are experts who provide useful, meaningful, and important information to listeners and readers; precisely what producers and editors look for.
Book Publicity and Marketing:
Establishing Self-help Authors as Experts
The self-help "genre" encompasses many areas, from health and wellness and personal finance to spirituality and many more. For each type of book, Smith Publicity custom designs campaigns to reach specific media markets based on topic, and in most cases, general interest media. We promote self-help authors as experts because they have a book to prove it. As we like to say, "You are what we say you are," and the media will usually call you the same thing … the beauty of book publicity!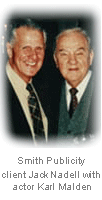 The Author is as Important as the Book
When it Comes to Publicity
Our clients are sometimes surprised when we explain that we want to promote them as much as, and sometimes more than, their books. Why do we do this? A popular Smith Publicity refrain is "No one wants to interview a book." Particularly for radio and TV, producers want engaging guests – people on the air to help other people.
If you have a self-help book, and you're willing to "get out there" in the public eye, chances are Smith Publicity can help you.
Articles and resources for authors/publishers
Susan Biali, M.D.


Author of Live a Life You Love: 7 Steps to a Healthier, Happier, More Passionate You

Dr. Biali's book explores a wide range of topics–from understanding your body language and food to relationships and stress–and blends them into a unique 7-step program to improve your life.

Top media interest: Fox TV's Fox and Friends, The Toronto Globe and Mail, and over 25 local and national radio and television interviews.

"My publicist at Smith Publicity worked tirelessly round the clock on my campaign, with excellent results – at one point, we had more interview requests from network television affiliates around the country than we could possibly handle! Her approach to my campaign was passionate and personal, she knew my book inside out and was a joy to work with. Thank you so much!" Susan Biali, M.D.

Michelle May, M.D.

Author of Eat What You Love, Love What You Eat

Dr. May's book provides practical, realistic weight management techniques and addresses the all too common "yoyo dieting" syndrome. Her insights into improving your energy, outlook on food and overall well-being are delivered with humor and passion.

Top media interest: ABC News, Chicago Tribune, Dallas Morning News, Washington Post and a total of 75+ confirmed articles and interviews.

"My publicist worked very hard on my behalf and communicated regularly with me. She had great hook ideas and was open and responsive to my input. The client needs to do their part–such as preparation and availability–but they'll do theirs!"
Michelle May, M.D.

Audrey Valeriani
Author of Boot Camp for the Broken-Hearted: How to Survive (and be Happy) in the Jungle of Love

In three simple phases, Valerian's book empowers people to let go of their pasts and bring themselves spiritually and mentally into the present. She also stresses positive, productive, and life-changing communication techniques.

Top media interest: Tyra Banks Show, Boston Globe, Divorce Magazine, and over 25 radio interviews.

"Smith Publicity helped me to get my name out there. I am so pleased with their efforts in securing publicity for me and my book that I re-signed with them for two additional contract terms! The return on my investment has been worth it. I highly recommend this firm." Audrey Valeriani