Top Ways to Market Your Book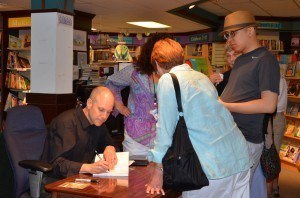 Every year, hundreds of thousands of books are published in the United States alone. So how do you make your book stand out once it's published? To compete with all the other books and famous authors out there, you have to market and advertise your book. You can't rely on your publisher or local bookstore to market your book for you. And, word-of-mouth can only go so far. Instead, you need to utilize online and offline marketing techniques to get your name out there and connect with your readership.
Online Book Marketing:
Net Galley – Net Galley (www.netgalley.com) is an online outlet where book reviewers, booksellers, librarians, bloggers, educators, publishers can discover new books. You simply upload a digital copy of your book to the site. This is a great way to drive traffic to your book and establish relationships with professional readers, top reviewers, and the media.
Amazon – Many readers and reviewers utilize Amazon.com to learn about new books and to make their book purchases. Amazon's Author Central enables readers to learn more about you and the topic of your book. The Author Page includes your biography, videos, photos, and events. It also connects readers to your blog posts. Please click here to learn about author optimization on Amazon.
Website – Just as websites are essential for businesses to sell their product, they are also a must-have for authors. With your website, you can show who you are and connect with your audience in a meaningful way. This is the first place readers, reviewers and media outlets will turn to learn more about you. Also, your website is a great outlet for driving more traffic to your blog and social media pages. You can connect your site with your social media accounts and blog and provide links to your recent media coverage. Your website, blog, and social media accounts are a great way for you to build relationships with readers and the media. And, you can provide updates on your upcoming book signings or public appearances. You can use weebly.com to create a fantastic website in one hour.
Traditional Book Marketing Strategies:
Trade Shows – Tradeshows and conferences are the perfect place to market your book. You'll meet face-to-face with book reviewers, readers, book distributors, librarians, editors, and other authors. Click here to learn about our book events exposure services to help grow your brand and market.
Media Coverage – When it comes to promoting your book, the media can be your best friend. Start out by reaching out to local news outlets, such as your local newspaper or radio station. Media outlets receive tons of media pitches and press releases a day, so make yours interesting. Instead of explaining the synopsis of your book, focus on what led you to write it. Once you gain publicity in smaller media outlets, larger outlets can pick up their stories and contact you for more coverage.
Book Signings – Book signings are a great way to interact with your audience. Here you are meeting your readers one-on-one – the ultimate personal connection. Book signings also make a great photo opportunity and can generate local media coverage.
To help you market your book, hire publicity professionals who will help you utilize all the right tools. Smith Publicity has the media connections and experienced marketing staff to get you the recognition your book deserves. Take your book to the next step with Smith Publicity today!
Next article: How to Market Your Book
https://www.smithpublicity.com/wp-content/uploads/2023/02/logo-new-1.webp
0
0
Smith Publicity
https://www.smithpublicity.com/wp-content/uploads/2023/02/logo-new-1.webp
Smith Publicity
2014-09-12 15:05:14
2019-11-01 08:18:43
Top Ways to Market Your Book