6 Must-Follow Blogs and Websites for Authors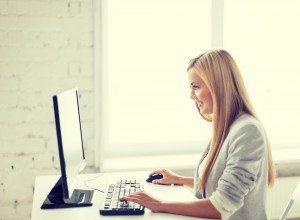 Blogs & Websites for Authors | Publishing Industry Information
If you've tried researching book marketing tips online, then you know there is a plethora of information. But how can you separate the ideas that will work from those that won't?
Some information you find online is written by authors who are solely promoting their books, or by book publicity agencies. To help you find the best online resources for promoting your book, we've compiled a list of 6 must-follow blogs and websites for authors. These sites are intended to provide published writers and aspiring authors with the tools and information needed to successfully promote and sell their books. By sharing experience and wisdom, these outlets can enhance your book marketing and promotion platform and put you in the best position to sell books.
Writer's Digest – Writer's Digest is a website that celebrates the writing life and what it means to be an author in today's publishing environment. The website informs writers on how they can polish their writing skills and get their work published. Writer's Digest provides excellent articles and blog posts that cater to a wide range of genres, writing levels, and writing goals.
Independent Book Publishers Association – The Independent Book Publishers Association (IBPA) is a great resource for self-published, indie authors. It is a not-for-profit membership organization that serves the indie publishing community through advocacy, education, and tools. Even if you're not a member, the blog is a useful resource for navigating the indie publishing process, which can sometimes be intimidating.
The Future of Ink – The Future of Ink focuses on digital publishing. The blog was founded by Ellen Britt, an award-winning online marketing strategist, and Amazon best-selling author, and Dr. Denise Wakeman, an online business strategist and founder of The Blog Squad. It also includes articles by writing and publishing experts who regularly contribute posts to the site.
The Creative Penn – The Creative Penn is the blog of Joanna Penn, a New York Times and USA Today bestselling author and professional public speaker. Drawing on her own experience, she provides advice on traditional and digital book marketing methods, such as how to use book trailers and videos to market your book — and how to get your book into bookstores and libraries.
Smith Publicity – Founded by Dan Smith in 1997, Smith Publicity is an internationally renowned book publicity agency that represents bestselling and indie authors across all genres. The Smith Publicity blog is a top resource for authors seeking to establish a name for themselves and get their books in the hands of readers. At the blog, you'll find a wide range of useful tips focusing on how to leverage traditional and online marketing tools to get your book the attention it deserves.
Goins Writer – Written by author Jeff Goin, this blog offers posts and podcasts featuring tips on writing and creativity to help authors generate buzz about their books. His insight stems from his own personal experiences as a published author.
What are your favorite writing and book marketing blogs?
https://www.smithpublicity.com/wp-content/uploads/shutterstock_205431031.jpg
734
1000
Smith Publicity
https://www.smithpublicity.com/wp-content/uploads/2023/02/logo-new-1.webp
Smith Publicity
2015-03-23 15:01:08
2021-08-08 15:12:58
6 Must-Follow Blogs and Websites for Authors