Auth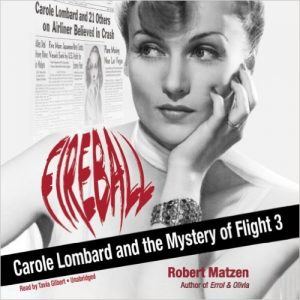 or Robert Matzen was recently featured on Time.com. The Hollywood historian and film lecturer was interviewed for a piece entitled Carole Lombard and Flight 3: A Movie Star's Mysterious Death.
"Another mystery was why Carol Lombard really decided she had to fly. One theory indicates that her hurry to get home was due to a possible affair between her husband and Lana Turner. According to author Robert Matzen, 'At the end of January 15, 1942, she decided she had done her duty – and now it was time to take care of Carole Lombard by getting home to her carousing husband by the fastest means possible. That meant air travel, something expressly forbidden because of the fear of accidents in wintry weather or sabotage by Hitler's spies. To which the response was predictable: Kiss my ass.'
In the new trade paperback of Fireball: Carole Lombard and the Mystery of Flight 3, Matzen takes a deep dive into the life of Carole Lombard and the other passengers and pilot on Flight 3 with an expanded section of photos, many of them included in this gallery."
Read the whole piece here.
When focusing on book marketing, remember the value of press clippings to your book publicity efforts!