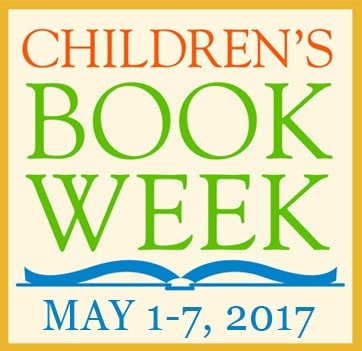 by Andrea Kiliany Thatcher.
Children's Book Week will be held May 1 – 7, 2017 and booksellers, libraries and schools are getting ready with the help of the Children's Book Council. It is a week for celebrating children's literature and literacy initiatives.
The programming consists of incentives for stores, schools and libraries to raise money for children in need, special CBW story times, activity hours and author/illustrator events. Some locations will have a "voting book" for kids and teens to help choose the Children's and Teen's Choice Book Awards.
There will be a display contest with 50 winners, and a bookstore or library's participation counts toward a donation to kids in need. In return, participating event locations agree to host a CBW story time, activity hour or author/illustrator event, and possibly a "voting booth" for kids and teens to help choose the Children's and Teen Choice Book Awards. Participating hosts are listed on a national event map and are part of a national publicity campaign.
How does your book fit in? If you are a children's or young adult author/illustrator, school, library and bookstore visits are a integral part of your book marketing strategy. Events like CBW and Independent Bookstore Day in April are terrific opportunities to reach out to your local bookstore, library or school and see what events they are planning. Are they looking for authors to do a story time or help out with activity hour? Illustrators to do a drawing lesson? There are lots of ways to get involved, network with those on the front lines selling and buying your book, and get your book and name out there! Plenty of book publicity can come from your book being part of a CBW display at your local bookstore or library. You can event take advantage of the opportunity to create content for your own social media properties. Support schools, libraries and local bookstores, and they will support your book.
https://www.smithpublicity.com/wp-content/uploads/smith-publicity-logo-crop.jpg
0
0
Smith Publicity
https://www.smithpublicity.com/wp-content/uploads/smith-publicity-logo-crop.jpg
Smith Publicity
2017-02-22 17:59:45
2019-08-30 15:05:19
Booksellers, libraries and schools prepare for Children's Book Week