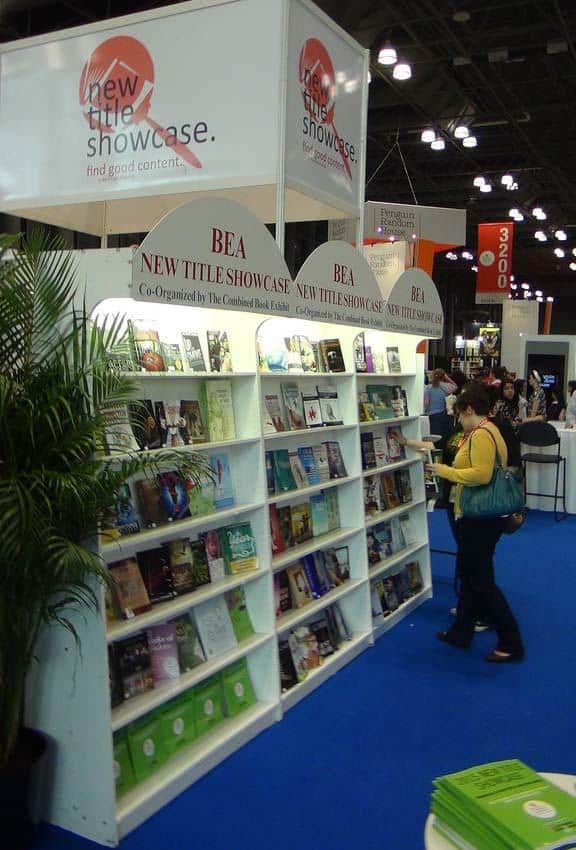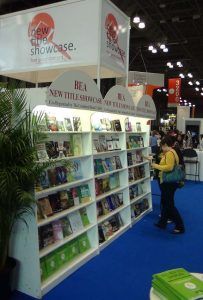 Smith Publicity partners with Combined Book Exhibit (CBE) to offer authors a cost-effective venue to launch new titles and put books in the hands of BookExpo attendees and consumers at BookCon.
Email cbe@smithpublicity.com or call 856-489-8654 x306.
More details:
The New Title Showcase remains a very accessible and valuable way to have your book prominently displayed through Combined Book Exhibit. The display price (print, eBook, or combo) includes display of one book and a listing in Combined Book Exhibit's exclusive catalog. It's a cost-effective way to get your book in front of the publishing industry!
For more information about having your book displayed through Smith Publicity's partnership with Combined Book Exhibit, visit our frequently asked questions: www.smithpublicity.com/combined-book-exhibit.
Benefits include:
Massive exposure to tens of thousands of book buyers and consumers.

High visibility location next to the popular author signing area.

Full face-out display of your title. Print books are displayed by author on bookshelves. eBooks will have a print out of the cover on the bookshelves and a preview represented on one of many large monitors!

Inclusion in New Title Showcase printed catalog with all of your contact information.

Online listing in searchable New Title Showcase including the Look Inside the Book feature where you can showcase a limited number of pages from your book online.

Opportunity to host an autographing session to make an even bigger splash as you launch your new titles at BookExpo.
For those not attending BookExpo, the New Title Showcase represents the most cost-effective and best way to have a presence at BookExpo and launch your new title. If you have a booth on the show floor, the New Title Showcase can also help drive traffic to your booth and expand the promotion of your new titles and authors.
eBook Display in the New Title Showcase
The New Title Showcase ebook display gives attendees the ability to see books that you have available in various e-formats, or even those not yet printed.
The eBook section of the New Title Showcase will feature large monitors that will show each book's cover, more information on each title, and preview pages. Publishers need to simply provide a JPG of the cover and a PDF of the manuscript and the eBook system automatically converts it into the format used for the exhibit.
Onsite attendees can choose to learn more about any (or all) title(s) by checking boxes for each on the monitor and entering their email address where they will receive a personalized catalog containing more information on each book they've selected.
Please note: The e-versions presented here are not printable, savable, or able to be copied, and no book can be read in its entirety.
About BookExpo
BookExpo is evolving to lead the global publishing industry to its consumer driven future and celebrate storytelling in all its forms. It's the place where industry, authors and readers converge to define the new publishing universe. BookExpo provides a focused professional environment to discover emerging authors and the next blockbuster titles, engage with the world's most influential publishers and learn from industry leaders and peers. Embrace the future of publishing with us in New York City on May 31 – June 2, 2017.
Email cbe@smithpublicity.com or call 856-489-8654 x306.
https://www.smithpublicity.com/wp-content/uploads/smith-publicity-logo-crop.jpg
0
0
Smith Publicity
https://www.smithpublicity.com/wp-content/uploads/smith-publicity-logo-crop.jpg
Smith Publicity
2017-03-14 09:00:28
2019-08-30 22:52:59
Have Your Book Displayed at BookExpo and BookCon!