A weekly roundup of what people are talking about in book marketing and book publicity.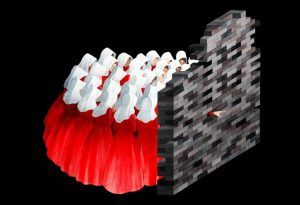 '1984' and 'The Handmaid's Tale' Get Hardcover Reissues - Two books that have regained popularity for being eerily prescient of the current political climate are getting hard cover reissues, the Handmaid's Tale surely boosted by an upcoming Hulu miniseries. See the trailer here: https://youtu.be/PJTonrzXTJs. (Image from the cover of the NYTimes Book review which asked Margaret Atwood what The Handmaid's Tale means in the age of Trump.)
Bookstores are preparing for Independent Bookstore Day April 29 and the map of participating stores is up.
The American Library Association responds to the President's proposal to eliminate the Institute of Library and Museum Services.
Book Riot has 18 novels you can read in a day.
Amazon opened its first brick and mortar bookstore in Chicago this week, and author Rebecca Makkai called for Chicago readers to visit one of the city's excellent indies. The Chicago Review of Books had some suggestions.