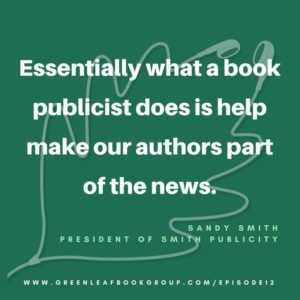 Our own company President Sandy Smith was recently a guest on the Greenleaf Book Group podcast.
"When authors are getting ready to launch their books, publicity can be a big factor in book sales. The publisher and author create the push that gets the book onto the bookstore shelves, while the publicity team creates the pull that brings consumers in to pick the book up off the bookstore shelf," Greenleaf writes. "In this episode of Published, we're pleased to welcome Sandy Smith, the President of Smith Publicity, to discuss what authors need to know when working with a book publicist."
Listen to the whole ep below! And be sure to check out Greenleaf's robust learning center on their Web site. There is a lot of information for aspiring, new, and even experienced authors on the publishing process. On our own site you can find book marketing and book publicity resources like 101 Ways to Promote Your Book!