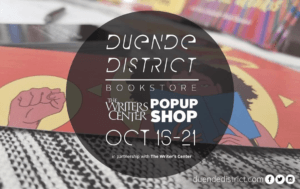 In this exciting episode we speak to Angela Marie Spring, founder and owner of Duende District, a mobile bookstore focused on reaching Hispanic, black, immigrant and other communities of color throughout D.C.-Maryland-Virginia area.
We talk about stocking diverse writers, how an author or brick and mortar bookstore could benefit from a pop up shop or event, and what a pop up bookstore is, for those of you who don't know! We also delve into Angela's experience as a bookseller and floor manager for Politics & Prose, one of our authors most-requested bookstores for signings and events. What did she tell authors about how to get an event in their store? Listen to find out.

If you're in the DC area, Duende District is currently holding an event with The Writers' Center in Bethesda, MD.