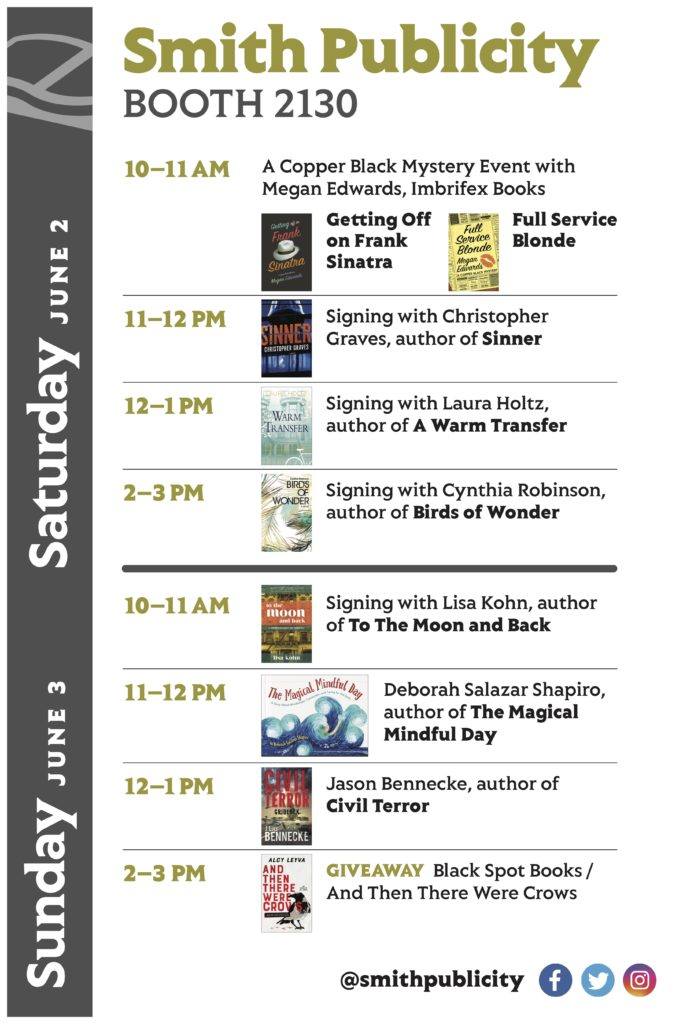 BookCon Signing and Book Giveaway Schedule - June 2 and 3
For media inquiries and questions:
Contact: Mike Onorato
mike.onarato@smithpublicity.com
856-489-8654, ext. 304
Smith Publicity – Booth 2130
Saturday, June 2
10-11am -Signing with Imbrifex Books / Megan Edwards for two titles:
Getting Off on Frank Sinatra
A desert metropolis built on gambling, vice and other forms of entertainment, in just a century of existence, Las Vegas has drawn millions of visitors and trillions of dollars to southern Nevada. Arguably one of the most famous cities in the world, iconic and legendary musical talent from the 1950s to today still reign on the strip as the top shows to attend. Enchanted by the unlikely metropolis in the desert, author Megan Edwards uses 'Sin City' as the backdrop to her first novel in the Copper Black Mystery Series, Getting off on Frank Sinatra [Imbrifex Books, Available Now.)
In Getting off on Frank Sinatra, lead character Copper Black is new to Las Vegas, living with her brother and his wife, and still learning her way around a city with streets named after its famous headliners: Dean Martin, Mel Tormé, and—of course—Frank Sinatra. Pursuing a career as a serious journalist, she takes a job editing the calendar section for Las Vegas Light. Along comes the unwelcome news that her boyfriend is responsible for his not-quite-ex-wife's pregnancy. Fortunately, Copper is offered a house-sitting job at a notorious Las Vegas "party house" mansion. Built by a mobster for his girlfriend back in the seventies, the pleasure palace holds celebrity status because of a blockbuster movie about the murder allegedly committed within its walls. Not only does this offer respite from her newly complicated relationship, but what happens in the mansion could be the juicy subject matter that could propel her journalism career.
AUTHOR bio: Megan Edwards is an award-winning writer based in Las Vegas, where she is Executive Editor of Living-Las-Vegas.com. A former newspaper columnist and magazine contributor, Edwards is the author of the well-received travel memoir Roads from the Ashes. This is her first novel.
Full Service Blonde
A working girl is found dead in the desert. Can a calendar girl uncover the truth? In this prequel to Getting Off on Frank Sinatra, it's Christmastime in Sin City. Aspiring journalist Copper Black meets Victoria McKimber, an outspoken prostitute at one of Nevada's legal brothels. She's offered Copper the exclusive right to tell her story. Not only will the Las Vegas Light's "calendar girl" get a byline, but she can also impress her boyfriend and parents when they arrive for the holidays.
Copper is busy with work, Christmas shopping, and fantasizing about a whole week with her long-distance boyfriend. She's also helping her brother, a civic-minded pastor who is spearheading plans for a new center to serve the homeless. Things are hectic but under control when shocking news breaks. Victoria McKimber has turned up dead.
As she investigates the violent death, Copper evades enemies, juggles boyfriend, work, and family, and races against time to save her brother from a sinister plot. Unless she can expose the truth about Victoria McKimber, somebody just might get away with murder.
-----
11-12p – Signing with Christopher Graves, author of Sinner
About the book: As a direct descendant of the 19th century vigilante gang, the Bald Knobbers, Ezekiel Woods, Jr. has been indoctrinated into a world ruled by violence and a literal interpretation of the bible his entire life. Continuing his ancestors' self-assumed crusade as moral-straighteners of society, "Zeke" spends his days camouflaged as an aloof middle-aged grocery store sacker and his nights in a serpent-filled farmhouse cellar, preparing captives' souls for their ultimate destiny: redemption or death. His latest abductee, Dani, an indomitable Texan working her way through a third-life crisis, chooses another option: escape. But after breaking out of several layers of containment, Dani discovers her fight for survival has just begun. Zeke must recapture this lost sheep or face a consequence far worse than any worldly fate: that God has forsaken him.
About the Author: Christopher Graves is an actor, filmmaker and award-winning screenwriter based in New York City. Some of his performance credits include Sneaky Pete, Divorce, Shades of Blue, The Blacklist, Nurse Jackie, as well as many network on-camera and voice-over commercials for national brands. He is the creator and writer of the comedic web series, With Friends Like These and the feature-length screenplay, Sinner, which was named Best Psychological Thriller Script by the New Hope International Film Festival.
-----
12-1p – Signing with Laura Holtz, author of A Warm Transfer
Entangled in the gilded web of Chicago high society, Tamsen Peel tiptoes through the brutal complexities of her fractured marriage, searching for answers while she hoards gift cards and cash in her secret "just in case" Fountain Fund. When a handsome musician leans his dilapidated bicycle against the iron fence of her Astor Street brownstone, Tamsen finds new possibilities and a shard of hope for her future but must ultimately decide if she will abandon the security of her privileged life or stay for the sake of her children.
About the Author: Laura Holtz is an author and lyricist. She wrote the lyrics for Gatecrashers, one of four musicals selected as a finalist for The Discovery New Musical Theatre Festival at Ball State University for their May 2016 competition. A graduate of Northwestern University, her first novel, A Warm Transfer, will be published Spring 2018.
-----
2-3p – Signing with Cynthia Robinson, author of Birds of Wonder
About the book: Certain characters are the stock in trade of detective novels: innocent murder victims (almost always female); detectives and their demons; husbands and their secrets; benign enablers and teenagers in foster homes. All of these find a home in Cynthia Robinson's forthcoming, novel Birds of Wonder [February 2018, Standing Stone Books], which might suggest it's just another variation on a host of well-worn themes — but this cast, familiar as it is, still has the power to ensnare us. Set among the hills and lakes of upstate New York and told in six vibrantly distinct voices, this complex and original narrative chronicles the rippling effects of a young girl's death through a densely intertwined community. By turns funny, fierce, lyrical and horrifying, Birds of Wonder probes family ties, the stresses that break them, and the pasts that never really let us go.
About the Author: Cynthia Robinson is a writer and art historian based in Ithaca, New York. Her short fiction has been published by The Arkansas Review, Epoch, The Missouri Review, Slice, and others. She is Mary Donlon Alger Professor of Medieval and Islamic Art at Cornell University and has recently, following a very long hiatus, returned to fiction with her first novel, Birds of Wonder.
----
Sunday, June 3
10-11a – Signing with Lisa Kohn, author of To The Moon and Back
About the Book: When you're a child, the world you are raised in is the only one you know. Being raised in two conflicting, bi-polar worlds, Lisa Kohn was aware that her childhood wasn't "normal," but it wasn't until much later that her pain and emotional scars eventually bubbled to the surface. Born to "hippie" parents, immersed in the "flower child" lifestyle of the time—Kohn, author of the debut memoir, To the Moon and Back: A Childhood Under the Influence [Heliotrope Books, September 2018], shares her unique story. With a mixture of encounter groups and primal screams, macrobiotic diets, communes, Jefferson Airplane concerts in Central Park, and watching naked actors on off-Broadway stages– Kohn's childhood was less than idyllic. By the time she turned ten, her mother joined the Unification Church—the Moonies—physically abandoning her and her brother, while emotionally and spiritually bring them into the cult. Wholeheartedly embracing the Moonies, Kohn found the stringent, punishing rules by which they lived a safe haven to the chaos she knew.
About the Author: Lisa Kohn is an accomplished leadership consultant, executive coach, author, and keynote speaker with a strong business background and a creative approach. She has over 20 years of experience partnering with Fortune 500 clients in areas of leadership, communication styles, managing change, interpersonal and team dynamics, and strategy, as well as life balance and fulfillment. By emphasizing the importance of thoughtful, intentional leadership, Lisa helps clients to not only uncover issues to implement real changes, but also to successfully address their own inner challenges and effectively connect with others to ensure the changes stick.
Lisa earned her BA in psychology from Cornell University and her MBA from Columbia University's Executive Program. She has taught as an adjunct professor at Columbia University and New York University's Stern School of Business and has been featured in several professional publications addressing topics on management, leadership, and communications. She has been awarded the designation of Professional Certified Coach by the International Coach Federation. Lisa is an Accredited Facilitator for Everything DiSC®, The Five Behaviors of a Cohesive Team™, The Leadership Circle™, and Myers-Briggs Type Indicator®. Lisa is the co-author of The Power of Thoughtful Leadership: 101 Minutes to Being the Leader You Want to Be. A native New Yorker, she currently resides in Wayne, Pennsylvania with her family.
----
11-12p - Signing: Deborah Salazar Shapiro, author of The Magical Mindful Day
About the Book: "I am a proud immigrant who wants to contribute to the well-being of all living beings. Growing up in El Salvador, witnessing the effects of a civil war, natural disasters, and extreme poverty taught me at a very young age to appreciate the things I had," says Deborah Salazar Shapiro, who is combining her experiences with mindfulness and heart-based practices to bring to life The Magical Mindful Day, a children's book for people of all ages. On a visit to the beach with her mother, Gaby, the main character of Salazar Shapiro's debut book, and her best friend, Baba, encounter a talking cat named Oreo who introduces Gaby to many aspects of mindfulness—noticing the present moment, caring about the environment, and protecting the earth and all its creatures. Together, they share a bond that transcends time and place. The Magical Mindful Day takes children on the adventure of becoming mindful and shows them that joy and caring go hand in hand. Parents, teachers, earth lovers, and anyone who wants to encourage children to be more mindful will find much of value in this delightful tale.
About the Author: Deborah Salazar Shapiro, MSW, is a psychotherapist, mindfulness teacher, author, and artist who was born and raised in San Salvador, El Salvador. She has been working with children and families for over 15 years. Deborah holds an MSW from the University of Southern California and a master's-level degree in psychology from the University Dr. Jose Matias Delgado in San Salvador. She lives in San Diego, California with her husband, two daughters, and a wise cat named Thay.
----
12-1p - Signing: Jason Bennecke, author of Civil Terror
About the book: Sitting in traffic is the worst. We've all experienced the drudgery of hours upon hours of bumper-to-bumper traffic that has seemingly no good explanation. What if traffic jams were not only a nuisance but also an actual source of danger? With self-driving cars being tested across the world and computer systems at the helm, this possibility is not as far-fetched as it might have once seemed. Civil Engineer J. Luke Bennecke uses his wealth of knowledge on the subject to take a fictional dive head first into the question of what might happen if we, as a society, fail to account for the risks associated with the technological advancements of autonomous vehicles in his new page-turning novel, Civil Terror: Gridlock (Jaytech Publishing, March 2018). Readers will find themselves immediately hooked by Bennecke's uber-timely, eerily believable escapade, and will be counting down the days until the next installment.
About the author: J. Luke Bennecke is a native Californian and a 26-year veteran civil engineer who has spent his career helping people by improving transportation systems in Southern California. Like most commuters, he longs for the day when traffic congestion is a thing of the past and highway fatalities are a distant memory. He has a BS in Civil Engineering from Cal Poly Pomona, and a MBA in Corporate Management from Cal State San Bernardino. Since 1992 he has worked on and off with the California State Department of Transportation (Caltrans), has a private pilot's certificate, is a licensed real estate broker, licensed general building contractor, certified Project Management Professional, CEO of Red Apple Reading (software company that teaches reading skills to children) and is a partner in the successful firm, Southstar Engineering, based in Riverside. He has been happily married to the woman of his dreams, Tammy, for two-and-a-half-decades and enjoys spending time with his grown daughters.
2-3p - GIVEAWAY -- Black Spot Books / And Then There Were Crows
About the book: New York City has always been a big fat sack of stress for Amanda Grey. From turning herself into knots to evade rubbing ass cheeks with strangers on the train, to round-housing public bathroom door handles to stave off plague contaminations, Grey has always found the simple technique of avoidance best in dealing with NYC. Luckily, the one-bedroom apartment in Queens she shares with her parents has always served as a refuge from a world that's too loud and too bright for Amanda Grey.
Of course, that's all about to change.