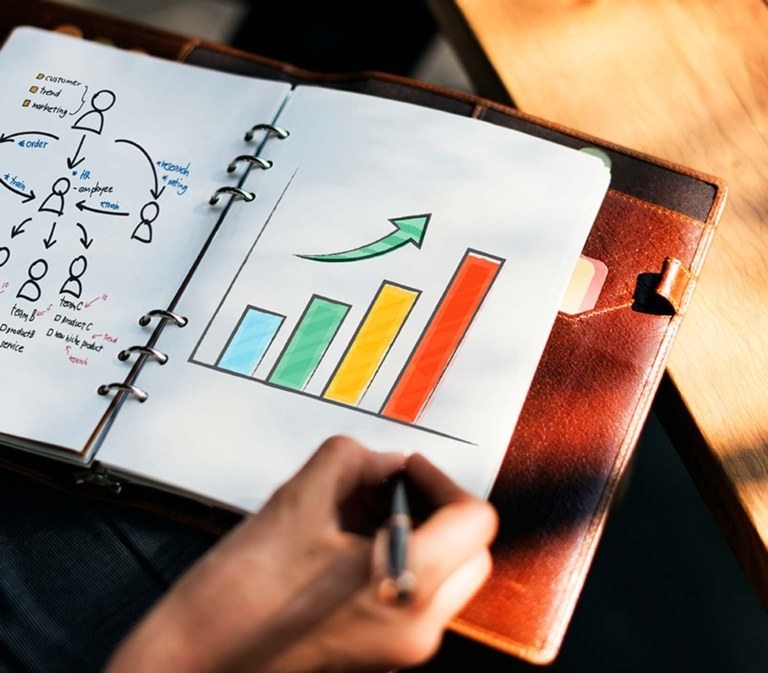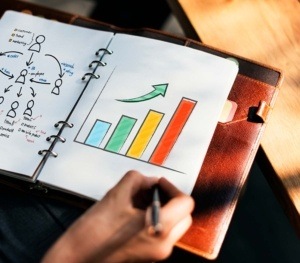 Our Smith Publicity book marketing webinar series is an outstanding free resource for authors. The six courses, rolling out during 2022, cover a range of book publicity and marketing topics of value to authors in both categories – those who self-publish their work and those who work with traditional publishers. Becoming better informed about marketing topics will boost your writing career, increase your professional confidence, and make you more competitive.
Knowledge is power in the phenomenally competitive book industry.
The webinars will teach you how to brand yourself successfully and help you take a proactive approach to book promotion. If you're publishing independently, you'll need to assemble the right team, and if you're publishing traditionally, attending our webinars will help you ask your publisher better questions and be a stronger personal advocate. Regardless of your path, you'll gain insight from the experts offering their experience-based advice.
Webinar Speakers Include Respected PR & Publishing Pros     
The courses are dynamic and enjoyable to attend, and the information shared is organized and actionable. Each presenter is relaxed and approachable in their own style. A veteran Smith Publicity executive leads the sessions teamed with a respected industry partner. All have relevant knowledge on the subject and are already receiving rave reviews from authors and other publishing industry professionals who have attended.
First, familiarize yourself with each free webinar …
Then, scroll down to complete the easy sign-up form and begin watching!
To sign up for access to each session of the webinar series and receive notices for each new session with access links, simply enter your email address and you'll receive a link for access.
Save the date for our next webinar on May 25th, 2022 at 2pm EST.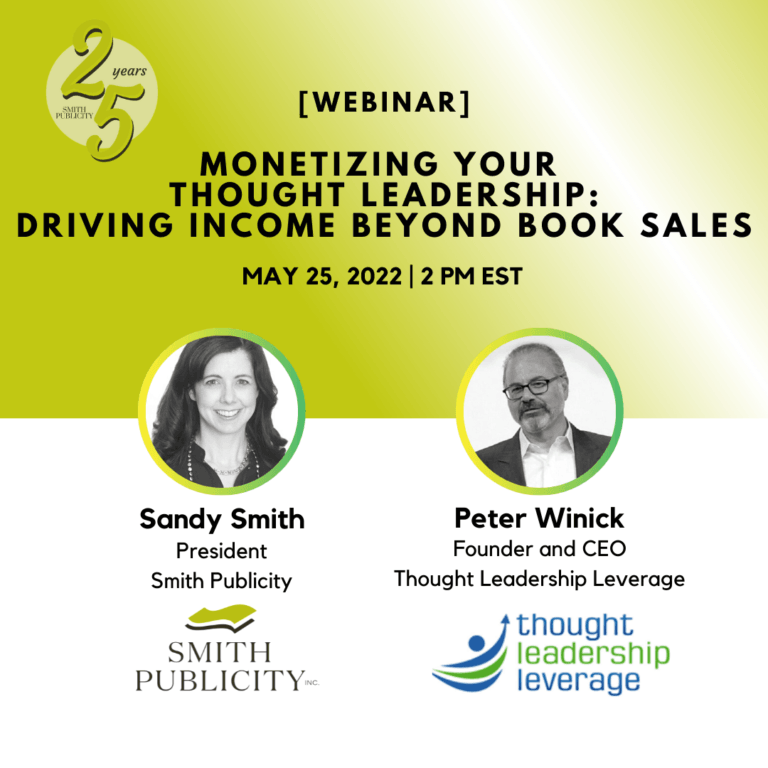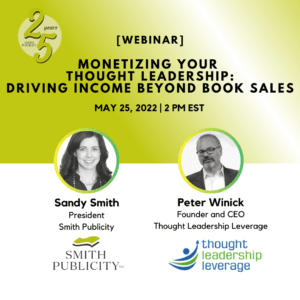 Presenters: Sandy Smith – President, Smith Publicity; and Peter Winick – Founder and CEO, Thought Leadership Leverage.
Overview: Publishing industry experts Sandy Smith and Peter Winick discuss how thought leadership can present opportunities for expanded income for professional practice and business leaders. These opportunities can coincide with or follow a book marketing campaign.
What You'll Learn: Authors and business professionals alike can learn how to earn the most from their published works. Webinar attendees can expect to learn how to expand opportunities for income beyond just book sales.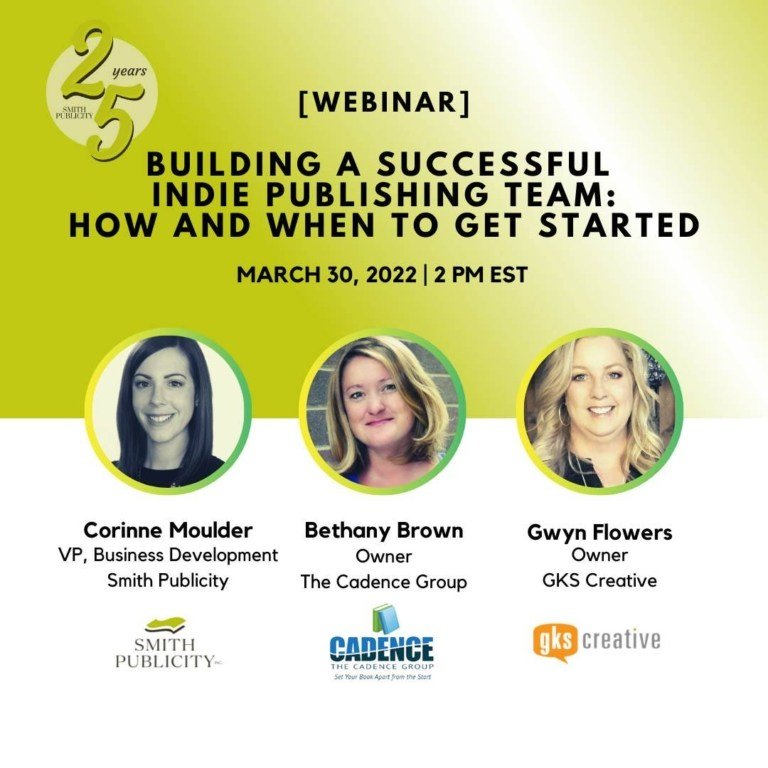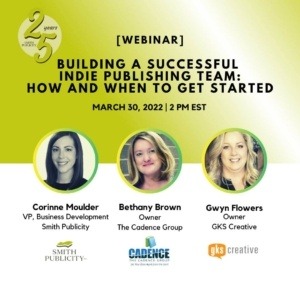 Presenters: Corinna Moulder, Vice President, Business Development, Smith Publicity; Gwyn Flowers of GKS creative, and Bethany Brown of The Cadence Group
Overview: Even the most DIY-minded authors can benefit enormously from collaboration with other publishing pros when finalizing and marketing their books. From cover design to content preparation services (editing, proofreading, formatting) and marketing, the right team greatly improves the prospects for success. Learn how to access them for your budget.
What You'll Learn:  How to adapt the traditional publishing model to your unique needs; what it takes to develop and implement a successful publishing plan; and how to select and recruit the team you need from design to editing, formatting, publicity, and promotion.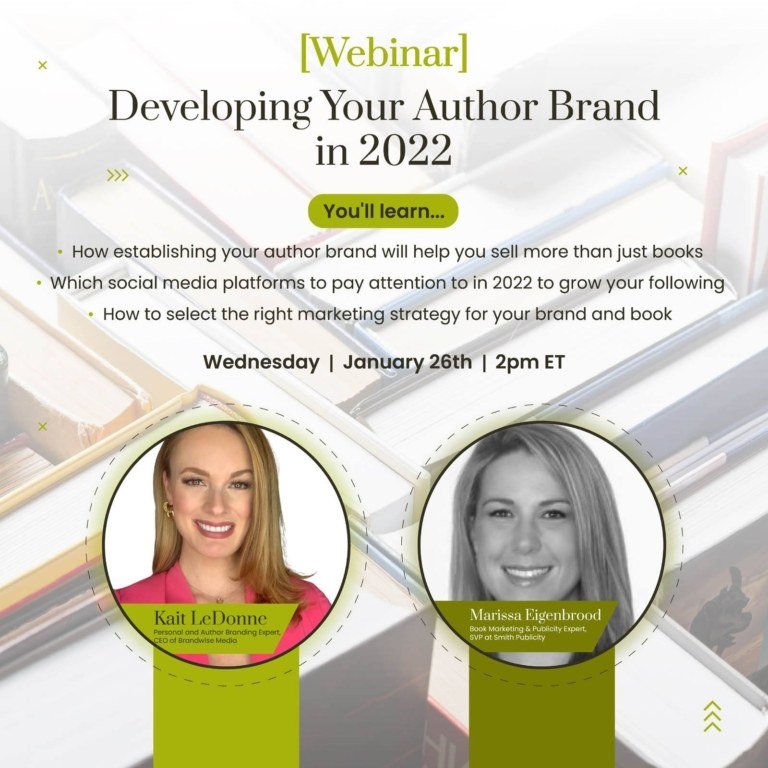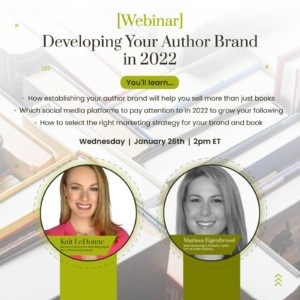 Presenters:  Marissa Eigenbrood, Senior Vice President, Smith Publicity, and industry partner and personal branding expert Kait LeDonne, Founder of Brandwise Media.
Overview: This session will familiarize you with the required elements for author brands. They include identifying and developing unique attributes and ways to support and expand them. It covers the reasons for increasing social media followings and teaches you to lay out a personal marketing strategy to drive growth and visibility.
What You'll Learn:  How to establish your author brand to sell more than just books; ways to prioritize social media platforms to increase your following; and how to decide on and develop the optimal marketing strategy for your brand and book(s).
Smith Publicity's book PR pros receive inquiries from authors every day, and the webinar topics answer the most frequently asked questions about book marketing directly. They are a free service to the book industry and give you direct and convenient access to a range of experts. There is much to learn if you're a first-time author, but they're also appropriate for writers already underway with their careers. The industry changes and becomes more competitive every year, and expanding your knowledge is beneficial for everyone.
Our goal is to help every book become a success, and webinars are the latest addition to our offering of free online resources for authors. As the industry grows and evolves, we will add topics and keep our book marketing and content preparation course offering one of the most comprehensive literary marketing resources available anywhere. Even if you've not yet written a book but are exploring the idea, attend our webinars to increase your chances of becoming a success.