Benefits of Book Publicity Programs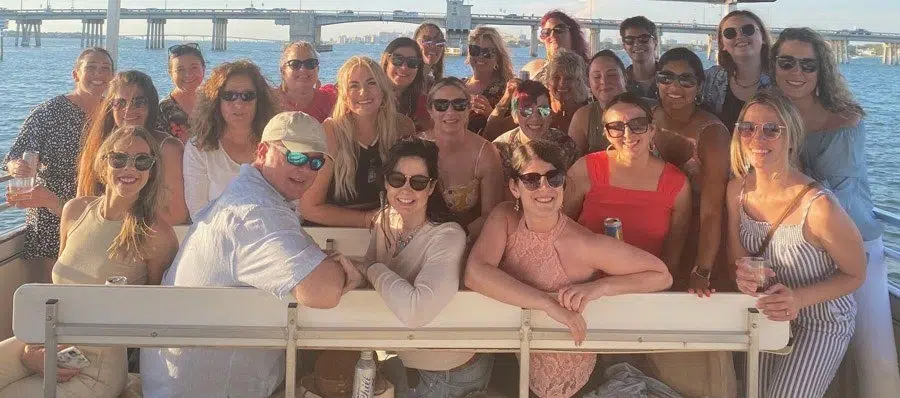 Book Sales
Author Branding
Speaking Engagements
New Business and Consulting Opportunities
Long-Lasting Relationships with Traditional and Online Media 
Making your book newsworthy is the foundation of a successful book marketing campaign. Since 1997, we've forged a reputation as the premier book publicity company to spark the media's interest in you and your book. Our team of veteran book publicists works collaboratively, has unmatched media contacts, and has an impressive track record of success. We've promoted thousands of authors, traditionally and self-published, with books in every genre. In the process, we've revolutionized the art of making books and their authors newsworthy in unique and compelling ways.
Why Market Your Book with Smith Publicity?
"Effective book marketing requires understanding the media landscape and staying ahead of changes. Our services are always evolving to align with developments in traditional and online media. Thanks to the depth and breadth of our experience, we're perfectly equipped to work with publishers and self-published authors alike."
Janet Shapiro
Vice President, Publicity
Smith Publicity's 110 Marketing Ideas to Sell Your Book is one of the best free book marketing resources online. It's available to anyone visiting our website from anywhere in the world. Whether you're a veteran author or publishing your first book, it's an outstanding resource and provides insight and information everyone can use.
How Do You Market Books to the Media?
Book promotion campaigns from Smith Publicity are about connecting with the media above all else. Coverage in trusted news and feature outlets helps you gain needed local, regional, national, and international exposure. It establishes leadership in your genre, industry, or profession. Our publicists will position your book uniquely with expertly crafted pitches that catch the attention of journalists, editors, producers, bloggers, and podcasters.
We'll Set Your Book Apart from Its Competition
What kind of media coverage can you expect? TV and radio interviews, newspaper and magazine articles, blog stories, and podcast appearances all are in the mix. Most traditional media today have become blended, which means they operate websites and social media accounts, many with significant traffic. All media opportunities will be carefully selected based on your target readers and where they are present in the audience.
The bottom line is that media contacts are looking for quality books written by qualified authors with something interesting, informative, entertaining, or thought-provoking to share with their audiences. Smith Publicity's self-published clients have enjoyed media coverage on venues including NBC-TV's Today Show, People Magazine, CBS-TV's 60 Minutes, The Wall Street Journal, The New York Times, USA Today, Los Angeles Times, The New Yorker, Forbes, INC, NPR and many more."
Sandra Poirier Smith
President, Smith Publicity
What Exactly is the Smith Publicity Book Marketing System?
The Smith Publicity Book Marketing System includes a wide range of marketing tactics to help your book gain attention. Some are rooted in founder Dan Smith's earliest book promotion successes, and over 25 years, we've consistently developed, modified, and refined services to keep pace with the evolving media landscape. We employ a hybrid push-pull promotional set of services in which we pull media interest through compelling pitches, push to get books to long-time media, and then follow up to secure interest.
Client Communication: A Vital Part of Our Book Promotion Method
We send biweekly updates to our clients and are fanatical about the timeliness of our reports. They include summaries of the week just concluded and overview plans for the coming week. We know clients are paying us with hard-earned money and deserve to know what's happening along the way.
Interested in Our Philosophy, Ideology, and Leadership Style?
Types Of Book Marketing And Publicity Campaigns And Consulting Services
Retainer-based book PR programs are typically three months, but time frames can be modified for specific projects. Comprehensive campaigns target traditional and online media — TV, radio, newspaper, magazine, news websites, blogs, and podcasts – as the name implies. Our publicists handle all media relations, book requests, scheduling, etc., and report their activities weekly.
Smith's nonfiction book publicity campaigns are uniquely designed to leverage awareness for both a book and the author/expert's profile and brand. We take a two-pronged approach, pitching mainstream/consumer media (online/digital news outlets; broadcast—podcast, TV, radio; print; bloggers/influencers) and audience-specific/industry media to introduce the key concepts from both the book and the expert's message with the goal of securing earned editorial coverage within outlets that resonate with their audience. Through strategic thought-leadership positioning—podcast interviews, guest contributor pieces, byline articles, and expert commentary, the book, in many ways, serves as our client's business card, reinforcing their message and driving attention back to their business and brand. Within our highly collaborative non-fiction book publicity campaigns, we aim to not only support the launch of the book but highlight the endurance of our client's impact on their industry/community long past publication date.
The focus of Smith's fiction campaigns is to build buzz and awareness surrounding the launch of an author's book and author brand through outreach to select traditional media, book bloggers, online book reviewers, and genre-influencers like bookstagrammers and booktokers. When working together, we craft tailored introductory hooks that quickly identify why themes and concepts in the client's book and/or elements of their author background or message will be of interest to their readers and audiences. Coverage for fiction can come in the form of book reviews/recommendations/excerpts, feature stories, author Q&As + interviews, blog mentions/posts, articles, and/or virtual opportunities.
Single-Focus Book Marketing Pushes:
In some cases, authors or publishers need concentrated media and influencer outreach focused on major book events – signings, speeches, awards, re-releases, etc. Smith Publicity can design and implement an aggressive array of marketing tactics to maximize and amplify the positive effects of special events.
Consulting Services:
In conjunction with many book PR campaign, we provide essential consulting services. In advance of the release of a book or after release, we help authors develop powerful platforms to enhance book marketing campaigns, including website reviews, the development of non-publicity marketing plans, social media guidance, consistent branding across all areas, graphic design services, and much more.
Costs:
Campaign fees are typically $10,000 or more depending on project scope and elements, with flexibility for targeted strategies.
Where is Smith Publicity Located?
Smith Publicity is a U.S.-based book marketing firm headquartered in Cherry Hill, New Jersey, conveniently located near Philadelphia and New York City. Our book publicity reach is international, and our influence in the publishing world is undeniable. We've pushed books to The New York Times bestseller list, made first-time, self-published authors famous, and secured meaningful media coverage for scores of publishers and authors. Many of our publicists work from our headquarters offices, with others located elsewhere in the United States. Long before the coronavirus pandemic, we were pioneers in work-from-home arrangements for some team members to expand our nationwide capabilities.
More Helpful Tips and Advice
Ready to Get Started Marketing Your Book?
Please complete our Get Started page and give us details about your book and marketing needs. Our publicists will take a look and let you know how we can help.