The Company History of Smith Publicity
It started with one book, one client, in a cramped, tiny bedroom office.
Dan Smith launched Smith Publicity from scratch, and unlike the vast majority of book PR firms and solo publicists, he came in with no previous experience in the book publishing industry. Consequently, he looked at everything with new, fresh, clear eyes, unencumbered by preconceived notions of "how things had always been done." Working 20 hour days and unleashing creativity, imagination, and new, sometimes unorthodox strategies, he shook up the book publicity and publishing industries. No one like Dan had ever ventured into book publicity.
As a result, the company grew … quickly. Within two days of launching the very first Smith Publicity book marketing campaign, one of our clients was on national television. As a result, it didn't take long for word of the new book publicity agency on the block to spread.
Now, with thousands of books promoted, we stand as one of the premier book marketing agencies in the world. We employ the most talented book publicists in the industry with offices in New Jersey and Toronto. Our promotional reach is international — to any English-language speaking country — and we've worked with authors from more than 30 nations on book publicity and marketing.
Since its beginning in 1997, Smith Publicity has been a trailblazer in the book publicity field. A few examples:
The first agency to have a self-published, print-on-demand novelist featured in The New York Times
Developed the now popular "book as a business card" marketing philosophy
Produced one of the first video book trailers
Helped gain credibility for self-publishing revolution by pitching and securing a front-page, above-the-fold article in The New York Times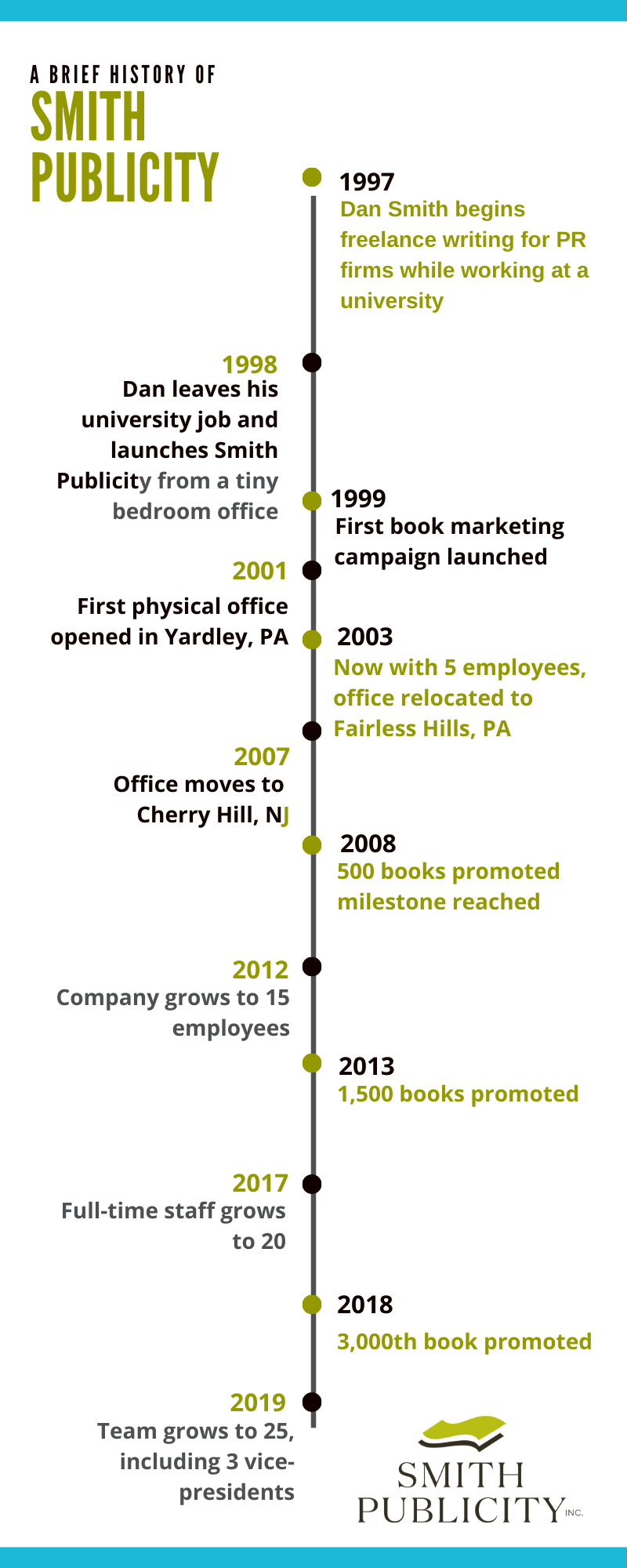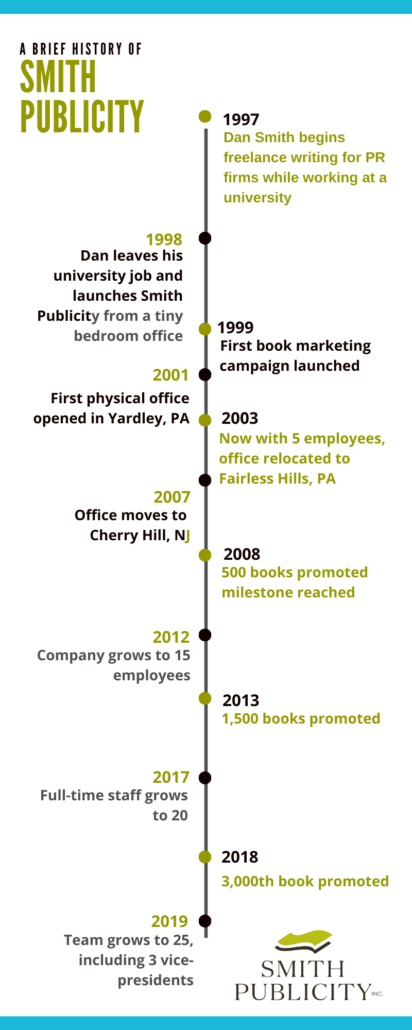 View the Video Business Cards of Our Senior Executives
Dan Smith, Mike Onorato, Corinne Moulder, Sandy Poirier Smith.
While some of our founding strategies and techniques remain a staple of our work, we consistently develop new book marketing methods and stay ahead of the curve in the dynamic, ever-evolving publishing industry. A true equal-opportunity book publicity and author promotion firm, Smith Publicity is one of the only companies to effectively market both traditional and self-published books. We believe the manner in which a book comes into existence isn't important; a quality book is a quality book regardless of how it was published.
Smith Publicity is a one-of-a-kind marketer in the publishing industry, with a promotional philosophy, unique company culture, and a personality, unlike any other book marketing agency. We're different by design, with a simple company mission statement: Do everything possible to make good things happen for our clients.