The History of Smith Publicity
It started with one book, one client, in the cramped, tiny bedroom office of Dan Smith, whose road to book publicity is unlike any other. Dan is admittedly different than most book PR professionals. He is one of the very few, if any, book marketing firm owners who started the business with absolutely no prior experience in the publishing and publicity worlds. An all-star college basketball player, his professional career started with a job repossessing cars in Harrisburg, PA followed by periods of unemployment and almost getting his own car repossessed. He ultimately ended up spending eight years as a university administrator in charge of student discipline and the campus judicial system.
Bored with a stalled job with no prospects of advancement, he began freelance writing on the side with the then-industry leading book advertising operation, Radio TV Interview Report, and in 1997 he cashed in his university retirement to start what would become Smith Publicity.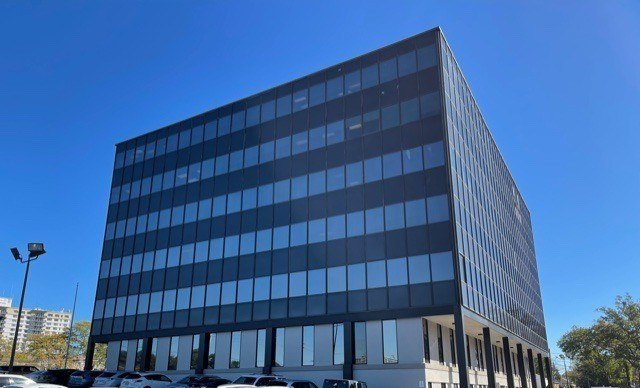 Dan's lack of publishing industry experience enabled him to look at everything with new, fresh, clear eyes, unencumbered by preconceived notions of "how things had always been done." Working 20 hour days and unleashing creativity, imagination, and new, sometimes unorthodox strategies, he shook up the book publicity field. No one like Dan had ever ventured into book publicity.
While attending his first industry trade show soon after starting, Dan met the owner of what was then the largest and most widely known book PR agency, and a well-known name among all major publishers. After listening to Dan's thoughts on book marketing and his plans for developing new types of campaigns, the gentleman laughed and said, "You're out of your league, and you won't last more than six months."
Well, that didn't happen.
Smith Publicity grew rapidly. Within two days of launching the very first Smith Publicity book marketing campaign, one of Dan's clients was on national television. As a result, it didn't take long for word of the new book publicity agency on the block to spread.
Now, 25 years later with 4,000 books promoted, we stand as the premier book marketing agency in the world. Dan's complete dedication to do "whatever it takes" to make good things happen for authors, as well as his willingness to explore and try things that have never been done before, continue to separate Smith Publicity from competitors.
We employ the most talented book publicists in the industry. Many members of our team have been with the company for over ten years.
']
Since the beginning, Smith Publicity has been a trailblazer in the book publicity field. A few examples:
The first agency to have a self-published, print-on-demand novelist featured in The New York Times
Developed the now popular "book as a business card" marketing philosophy
Produced one of the first video book trailers
Helped gain credibility for self-publishing revolution by pitching and securing a front-page, above-the-fold article in The New York Times. To hear the personal story of the founding and evolution of Smith Publicity – click here to listen to Dan and Sandy Smith interviewed on "The Premise" podcast.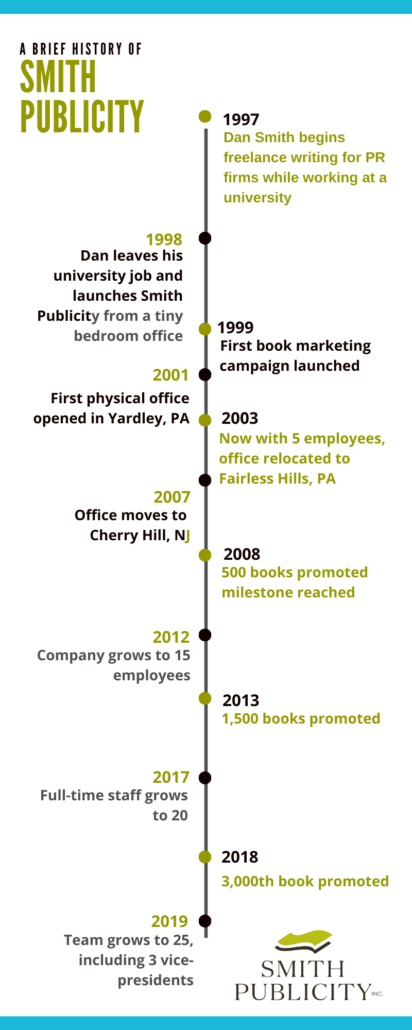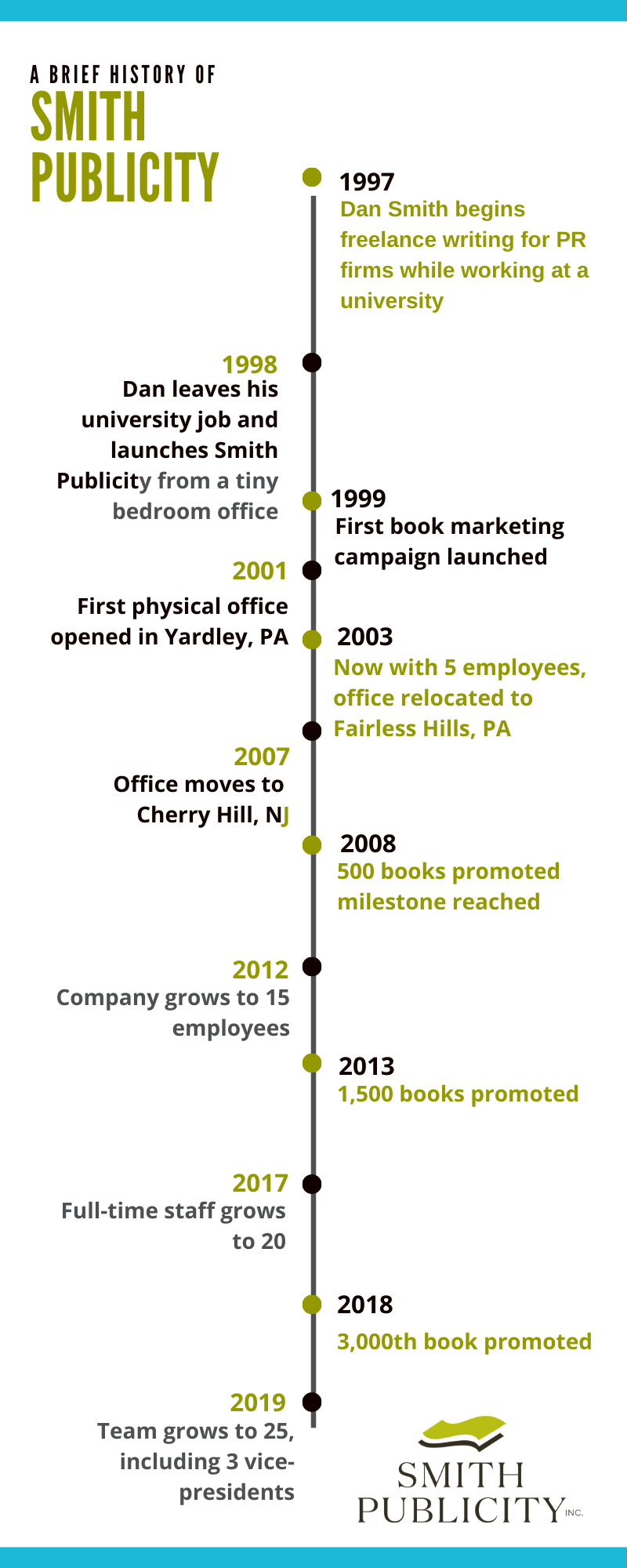 View the Video Business Cards of Our Senior Executives
Dan Smith, Corinne Moulder, Sandy Poirier Smith.
While some of our founding strategies and techniques remain a staple of our work, we consistently develop new book marketing methods and stay ahead of the curve in the dynamic, ever-evolving publishing industry. A true equal-opportunity book publicity and author promotion firm, Smith Publicity is one of the only companies to effectively market both traditional and self-published books. We believe the manner in which a book comes into existence isn't important; a quality book is a quality book regardless of how it was published.
Smith Publicity is a one-of-a-kind marketer in the publishing industry, with a promotional philosophy, unique company culture, and a personality unlike any other book marketing agency. We're different by design, with a simple company mission statement: Do everything possible to make good things happen for our clients.