Smith Publicity knows this game. I was on national radio, prime time TV, and been written up in Forbes, USA Today, and leading journals. Sales of my book spiked when Smith's campaign started. It's difficult to quantify the value, but when I consider the new accounts my consulting business signed this year, I'm confident 'The Smith Effect' was a factor in nearly half a million dollars of new business. That's a stellar ROI in anyone's language.
Nicolas Reed, author of
Selling to the C-Suite:
What Every Executive Wants You to Know About Successfully Selling to the Top
A Business Book Marketing Campaign with Smith Publicity …
Creates awareness about your book to spark sales
Enhances your expert brand and author reputation in your field
Showcases your knowledge and experience
Generates leads for your business
Attracts new business opportunities
Positions you for potential speaking engagements
Smith Publicity is the industry leader in providing impactful business book marketing services. From business book promotion to author branding and everything in between, we market business books with proven strategies and tactics. Our business book publicity campaigns reach influential media – both traditional and digital – and deliver persuasive pitches that prompt positive responses. Our clients have included Fortune 500 CEOs, entrepreneurs, consultants, speakers, and business owners of all types. The bottom line: if you need to market a business book, we can help.
We effectively build campaigns to publicize self-published business books as well as those published traditionally with our proven successful methods. It's about getting to the core of your message and refining it into well-placed pitches to the right producers, editors, writers, and show hosts. We also can provide content ideas and advice about business book websites and social media. Among the thousands of titles published every year, business books tend to be the most successful.
How to Market a Business Book … the Smith Publicity Way
Marketing a business book is often about more than just sparking sales. Publicity campaigns can be as much about showcasing you, the author, as much as the book. Effective author marketing produces media exposure that establishes you as a noted leader in your industry or profession. Many of our authors routinely receive queries from prospective clients, speaking and consulting opportunities, and see dramatic growth in their business during and after campaigns.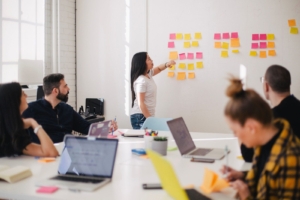 A key component to a successful campaign is for your publicity team to understand your goals. Many want to build their names as experts in their fields, attract new business opportunities, and sell books. Because we have successfully promoted hundreds of business books, we draw on deep experience for each new campaign. Everything we do is unique to you and your book, and our media contacts are among the best in the business. Because we work with new books continuously, we have opportunities to be in touch with the media daily. It allows us to build and maintain relationships that are unmatched in the industry.
More than Author Promotion, Your Book Can Be Your Business Card
Many business leaders now write books specifically to achieve broader business goals. Long before the practice was common, Dan Smith pitched a story that ran in Inc. Magazine that discussed the "book and a business card" concept, and he is widely credited as both coining the term and the promotional philosophy behind it. Your book and media coverage can produce benefits far beyond book sales. Smith Publicity has become the marketing arm for many business leaders and companies, supplanting or replacing traditional old-school strategies.
Despite the increasingly competitive environment, titles in the category continue to be among the most successful in all of publishing.
Strategic and Unique Campaigns for Long-Lasting Results
When planning book promotion and book marketing campaigns for business books, we strategically blend the elements of effective book publicity campaigns with proven author marketing techniques. Every element is geared toward your book — different business books require different tactics. Our goal is to enhance your reputation and build your author brand as well as make it as easy (and enticing) as possible for media to cover the book. Publicity produces excellent content for author websites and social media channels. Few things are as influential as links to articles and interviews featuring you and your book.
"As seen on…" or "As featured in…" can be leveraged throughout your career. Put simply: media coverage impresses. Unlike business book advertising, earned media coverage develops the most potent promotional asset of all: credibility.
Successful Business Book Marketing Campaign Elements
In business book marketing, we target a carefully selected mix of traditional and digital media. It includes print (magazine and newspaper and their associated websites), broadcast (television and radio), and online outlets in media markets throughout the United States, and if desired, in Canada, the United Kingdom, or other English-language media outlets worldwide. We also focus on an author's local and regional media markets. Coverage may include book listings/mentions/excerpts, feature stories and articles, trend pieces, author profiles, radio interviews, TV appearances and interviews, blog mentions, and byline and expert commentary opportunities.
Bylined articles are often important when promoting business experts. You, as the author, write articles about a topic related to your book. For example, these might be a how-to, top five tips, or case study-based article where you demonstrate how your ideas and expertise help solve a problem. We pitch the articles for placement in targeted media outlets and create plans for you to write additional articles, provide expert commentary, and contribute to blogs to reach the ideal audience for your book.
---
If you're looking for the best business book publicity firm with unique ideas about how to market your business book, we hope you'll reach out to us today. Smith Publicity is a book marketing firm unlike any other. We have proven methods and a long track record of success. Both your book and your career have much to gain from letting us help you with an outstanding marketing campaign for your business book.
---