5 Free Things You Can Do Today to Market Your Award-Winning Book
There are many wonderful ways to celebrate your award-winning book.
That, of course, is the good news. The bad news is that everyone else is using the same channels for all kinds of things. With our checklist of five easy things, you can cut through that noise and put those social channels to work for your marketing goals.
We all know books don't sell themselves, and winning an award hasn't changed that truth. However … becoming a finalist or winning an award brings recognition that can help your get book noticed, and it can open doors for promotional opportunities that were tough to get before.
1. Update your email signature block.
Email is still king. Not everyone uses social media, but everyone uses email. Your signature block should reflect your status as an award-winning author. It can be a simple tagline under your name, or it can be more comprehensive and include external links. Here are three styles to consider.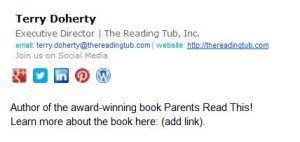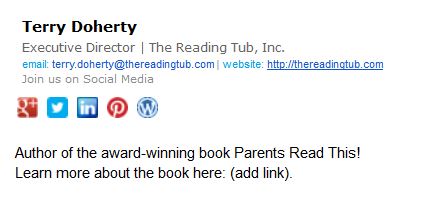 Once you set up your new signature block, be sure to send your publisher an email to let them know they have an award-winning book in their catalog.
2. Update your product images.
You have an award and a beautiful sticker. Do you have it on every copy of your book?
Without that seal, no one knows that yours is an award-winning book. That distinction is exactly what will help your book not only open doors, but it also helps your book stand apart from its peers on the bookstore's shelves and with e-tailers, too.

At the Mom's Choice Awards, we give each Honoree (award winner) a packet of 250 seals. That makes it super easy to update your product images.
Add the sticker to the book.
Take a high-quality image.
Replace all book cover images with the new one.
Think about all of the places you use your book cover image for marketing: your website and blog, your social media avatars, your Media Kit, maybe even your email. Changing the plain cover to the new image helps your book stand out.
Whenever possible and appropriate, use a version of the logo that does not include the award year.
3. Refresh product descriptions and bylines.
While we're in the process of updating images, let's take a couple of minutes to review your product description and bylines.
Do you have an "About Me" page on your website or blog? Does it describe you as an award-winning author? The same applies to your Amazon.com Author Page, your Media Kit bio, and anywhere else you publish content.
Similarly, your book description should reflect its award-winning status, as well. Wherever you have a product description, add "award-winning" as one of the descriptors (e.g., award-winning mystery for children). It is easy to do for your Media Kit and sell sheets, but you may have to add it as an "Editorial Review" for platforms like Amazon.com.
4. Build interest with a Press Release.
When award winners are announced, the award sponsor issues a press release. Make it easy for your website visitors to learn about the award by including a link to it on your website's News page.
More than likely, that PR hits the "big guys," which leaves a great opportunity for you to bring the news home. If you don't want to issue your own press release, consider sending a copy of the "Big Release" to your local news and radio stations, as well as your local newspaper (no paper is too small).
Here are three other ways to use that press release.
Deliver a copy to your local (or regional) library and offer to co-host an event.
Drop by your local bookstore so they can coordinate a signing!
Don't forget community listservs and neighborhood groups. Be sure to share your news with your neighbors!
Connecting with your local media shouldn't be a one-and-done activity. Set a tickler to follow up. Be sure to create ticklers for the anniversary of your launch or award date, too. Those are perfect days for issuing a press release.
5. Re-establish contacts.
Becoming a finalist or winning an award can open doors for promotional opportunities that were tough to get before.
Review the list of people who turned you down for reviews or events previously. Identify the three or four most important to you, and contact them again. Let them know about your award, and see if there may be new opportunities for you to work together.
Last, but not least, be sure to send a note to people who have already reviewed your book. It is a nice way to say "thank you."
A writer once told me that as hard as it was to write a book, she found the marketing even harder! Hopefully, with this quick list of promotional ideas, you'll find the job a bit easier.
@Terry Doherty
Terry is the Director of Honoree Marketing for the Mom's Choice Awards. She also writes about book marketing with social media on IBPA's Publishing News blog.
Most of the time, though, you'll find her with a book in her hands. She reads and reviews children's & Young Adult books for The Reading Tub, her nonprofit for family literacy.
www.momschoiceawards.com and @MomsChoiceAward on Twitter.
www.thereadingtub.com and @thereadingtub and @ReadingTub on Twitter.
https://www.smithpublicity.com/wp-content/uploads/2023/02/logo-new-1.webp
0
0
Smith Publicity
https://www.smithpublicity.com/wp-content/uploads/2023/02/logo-new-1.webp
Smith Publicity
2015-08-04 09:39:45
2019-08-13 18:17:08
5 Free Things You Can Do Today to Market Your Award-Winning Book