How the Media Decides What Books to Cover – Book Marketing Webinar
What to learn more about how the media chooses which books and authors to cover? If yes, it's as easy as attending the Smith Publicity webinar "What Media Wants: An Inside Look Into What Makes for Successful Book and Author Coverage" on July 27 at 2 p.m. EST. You can register and attend the hour-long session online from anywhere in the world — it's an excellent course for authors and other publishing industry professionals. Media coverage figures more prominently in the success of most books today because it's one of the most effective ways to reach target readers.
The book marketing webinar on media coverage will be led by Smith Publicity's Andrea Kiliany Thatcher, who manages publicity for many books and authors. She will be joined by Conz Preti, Senior Editor at INSIDER, and Tracy Schmid, Producer at FOX 29 Philadelphia. As a result, you'll hear thoughts and suggestions from both sides of the equation, media and author PR. They will give you a balanced idea about successful tactics and what to expect with you publish your book and launch a publicity campaign.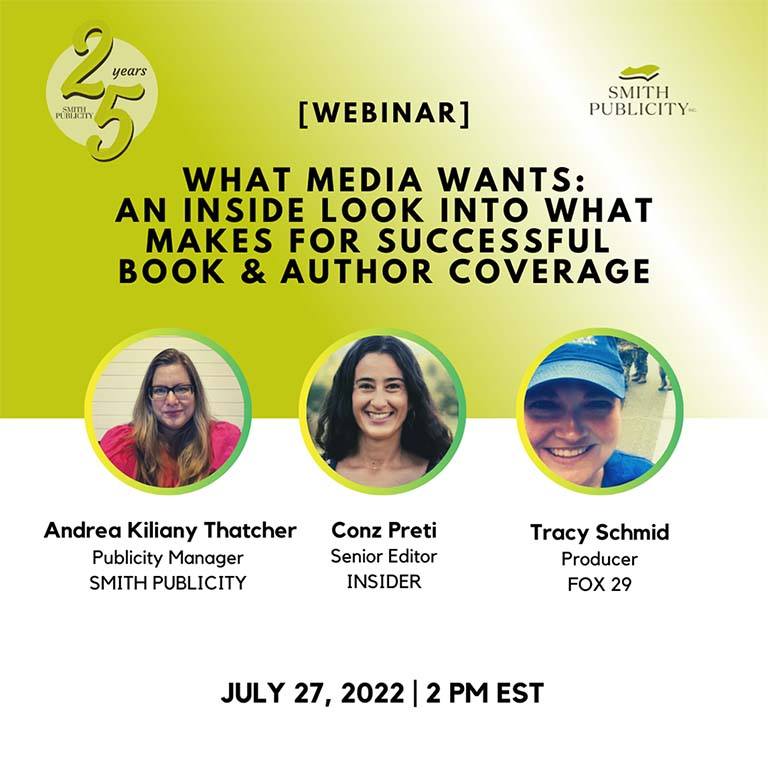 Gain Insight from the Course Leaders' Experience
Content for the book publicity webinar on media coverage be inspired by the experience and expertise of the leaders, both media and PR, and arise from commonly asked questions on the topic. Each month, the Smith Publicity team receives dozens of inquiries from authors and others about the ins and outs of earning media coverage. Panelists will discuss the opportunities in various genres and how many factors figure into final coverage decisions. No two books and authors are alike, and each requires a unique approach to publicity and the media to be seen as newsworthy and succeed.
"We are grateful to partner with members of the media who can share their insights for authors and other publishing industry professionals, like ourselves," says Marissa Eigenbrood, Senior Vice President, Smith Publicity. "We're confident that webinar attendees will leave the course with new knowledge and tools to help them prepare for media coverage and to adapt when changes are needed."
The proven successful format for each webinar is for a veteran Smith Publicity executive to team up with respected industry partners with relevant expertise on the topic. The webinars support our commitment to make our book publicists' knowledge more widely available online to authors, publishers, and others connected to the field. We will continue to offer courses throughout 2022 and make recordings of them available for others who wish to view them later.
About Smith Publicity
Smith Publicity is the most prolific book marketing firm in the publishing industry today. It has worked with and promoted more than 4,000 authors and books since 1997. The Smith team of publicists creates campaigns for authors ranging from first-time self-published writers to New York Times bestsellers. The firm's continuing success in a wide range of genres is a tribute to its uniqueness and ability to boldly and ingeniously innovate.
Subscribe to the Smith Publicity Email List for Updates and Access to Past Webinars
By subscribing to Smith Publicity's marketing email list, subscribers will receive updates on upcoming webinars and events as well as access to all past webinars. Information about upcoming webinars will also be available on the Smith Publicity social media channels.
# # #
Complete information about Smith Publicity, its staff, and book marketing services is available at https://www.smithpublicity.com
https://www.smithpublicity.com/wp-content/uploads/2022/07/july-webinar.jpg
1080
1080
Smith Publicity
https://www.smithpublicity.com/wp-content/uploads/2023/02/logo-new-1.webp
Smith Publicity
2022-07-15 00:34:07
2022-09-15 10:34:08
How the Media Decides What Books to Cover – Book Marketing Webinar