Amazon Marketing Opportunities for Authors
By Aryn Van Dyke
According to different studies, anywhere from 40-70% of US consumers start their product search on Amazon.
And seeing as Amazon is the largest bookselling platform, authors shouldn't let these statistics pass them by. Luckily, Amazon provides various marketing opportunities for authors and publishers to take advantage of.
In this post I'll be sharing:
How authors can utilize Amazon for both organic and paid search
The different marketing opportunities available to authors on Amazon
Some tips on creating an Amazon ad campaign
How can authors utilize Amazon for both organic and paid searches?
Just like Google, there are a couple of ways authors can help give their book a boost to improve search ranking. The first way is organic (in other words, free), and this is done by optimizing the book description.
How do you optimize your book description? You make sure that it includes keywords and phrases that your readers will be searching for. For example, if you are writing a marriage book for couples, you might work the following keywords into your description:
communication techniques
save your marriage
increase intimacy
how to love your spouse
Your keywords will depend on the genre, sub-genre, and topic of your individual book, but having them baked into your description will give you an advantage when readers are searching topically for a book like yours.
The second way authors can give their book a boost in search ranking is through paid ads. Amazon offers a few different types of ads, but the most popular type is Sponsored Product ads.
Sponsored Product ads show up just like any other book in the search, they just include a small "Sponsored" label at the top.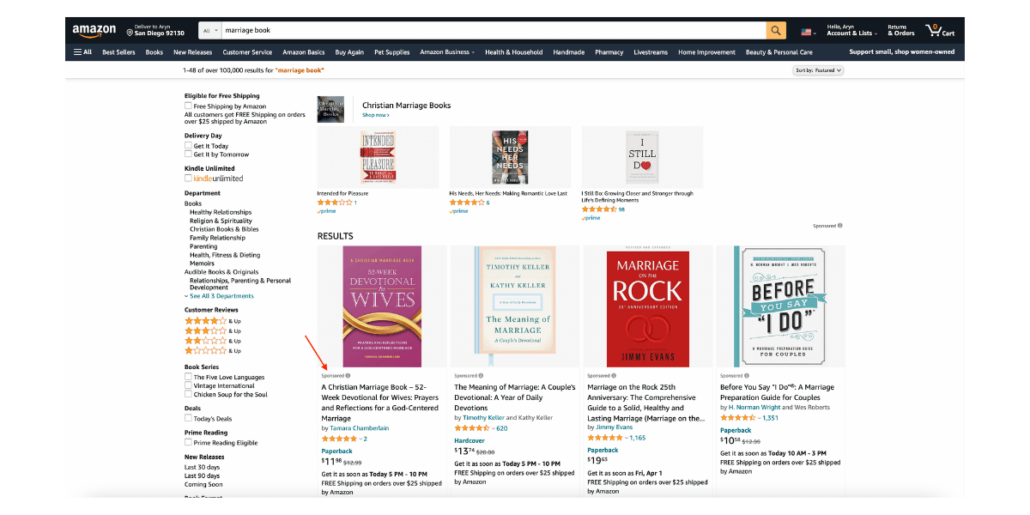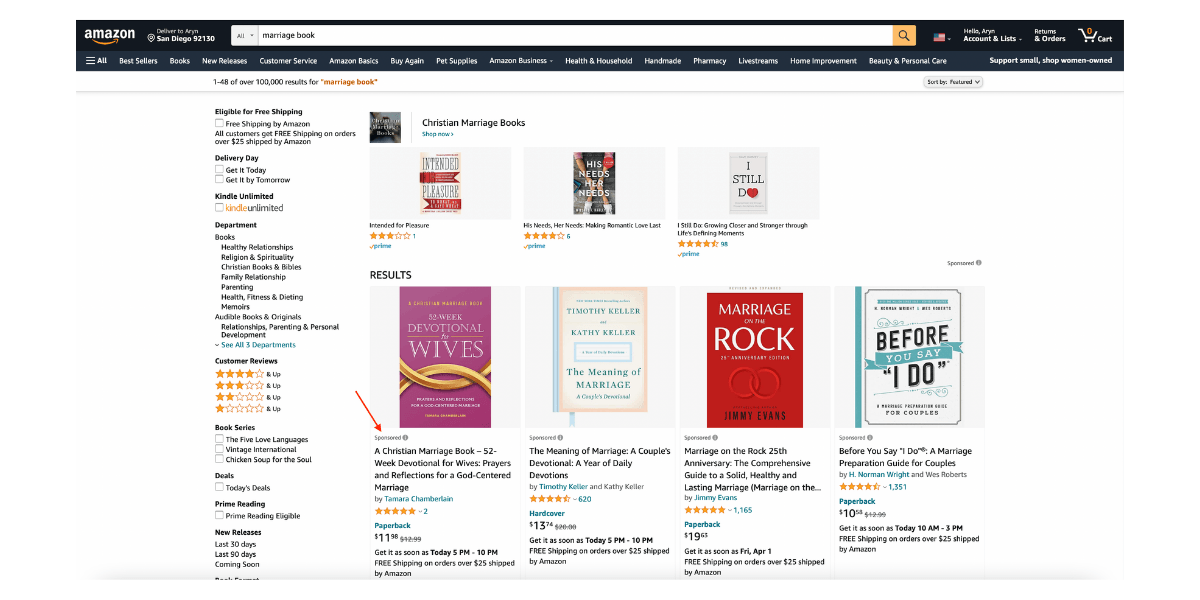 Who has access to run a Sponsored Product ad campaign? If you are published by a traditional or hybrid publisher, then they are the only ones who can set up a campaign. Reach out to your publisher and ask them if they are running, or are willing to run, Amazon ads for your book. If they aren't, ask if there is any way to partner together on getting something set up.
If you self-published your book through Amazon Kindle Direct Publishing, you already have access to set up an Amazon ad campaign for your book! You can access the advertising dashboard through your KDP account under the Marketing tab.
If you self-published through a different distributor, you may still have the option to use Amazon's marketing platform by registering for the Amazon Advantage program.
What marketing opportunities are available to authors on Amazon?
The big one is advertising. As mentioned above, Sponsored Product ads are the most popular for authors, however, there are also Sponsored Brand ads and Kindle Lockscreen ads.
In order to run a Sponsored Brand ad, you need a minimum of three products. This option can be great if you've written multiple books or a series.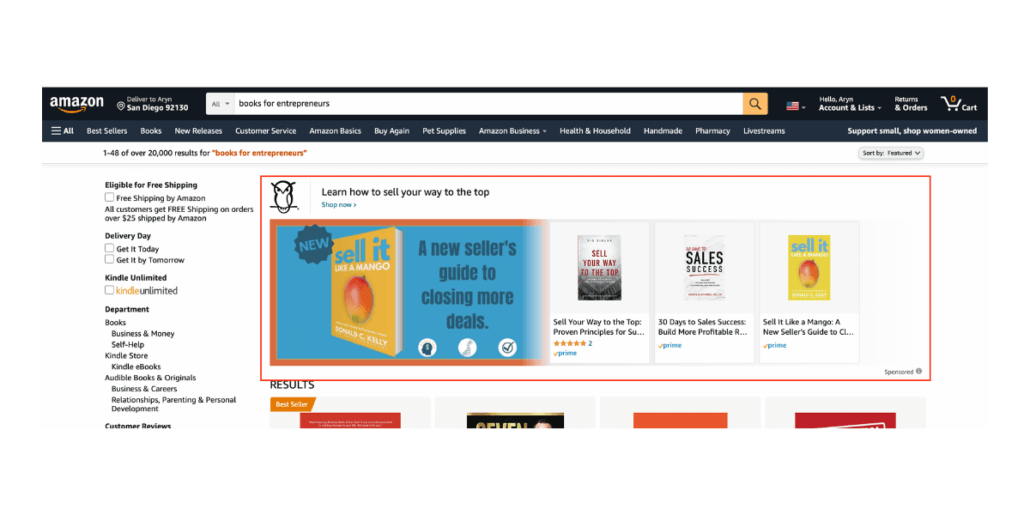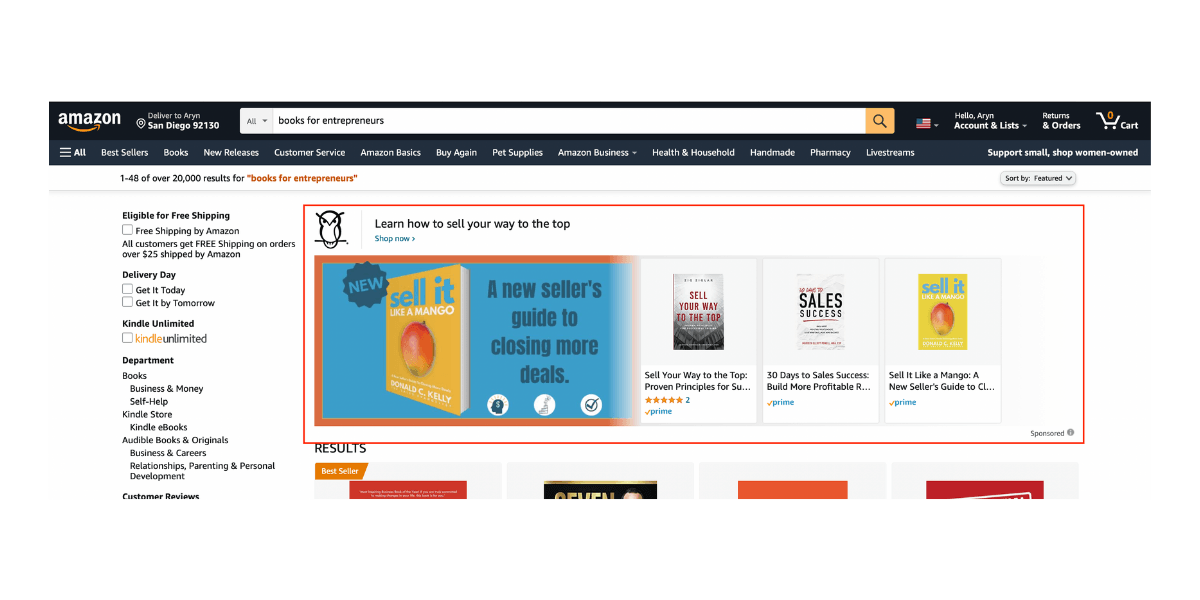 Another free marketing opportunity that Amazon offers is A+ Content. A+ content appears about halfway down the product page and gives authors additional space to showcase what readers will find in their book, praise for the book, or even additional photographs of the book.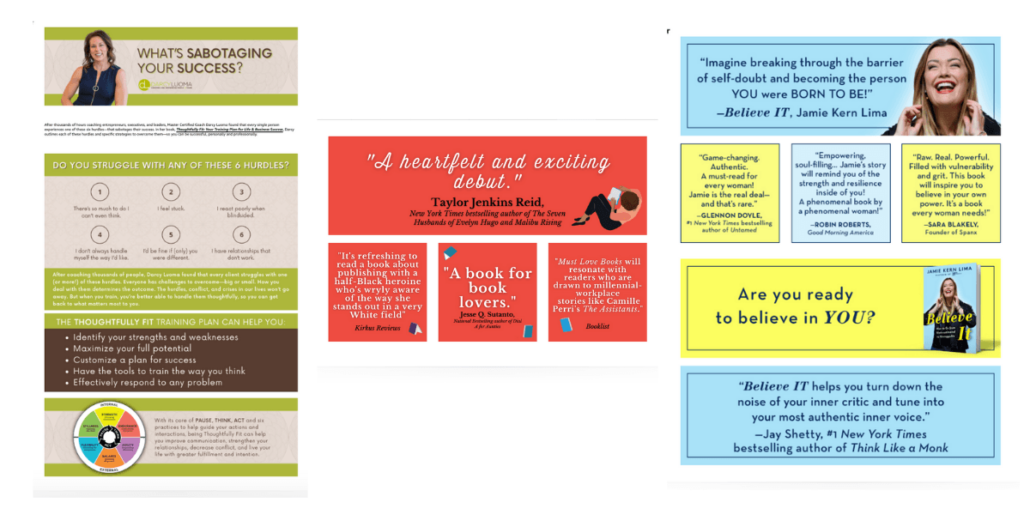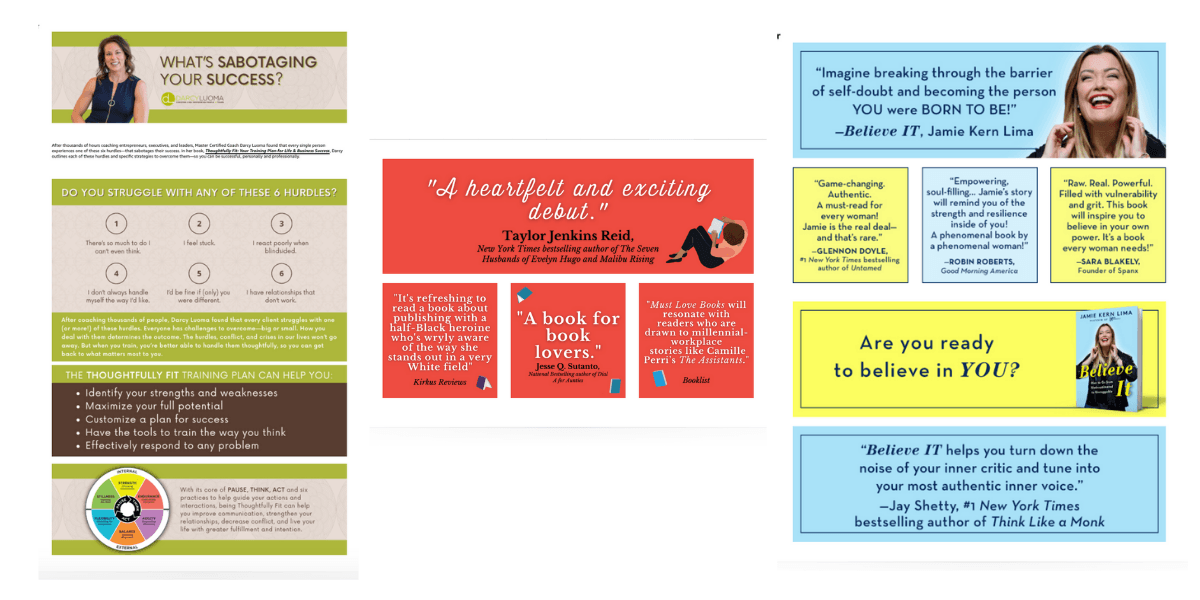 There are several different modules that authors can choose from, including image-based and text-based modules. It can be advantageous for authors to utilize this space for graphics and imagery to capture the attention of readers.
If you're working with a publisher, ask them if they plan to utilize A+ Content. There could be ways for you to work together with the publisher to get this added to your book's page. If you are self-publishing, you'll have access to add this yourself.
For authors who publish through KDP, you also have the ability to run a price promotion for an ebook. Offering a discounted or free ebook can be a great way to attract new readers to your book, and it makes your writing more accessible.
Tips for creating an Amazon ad campaign
If you're able to set up your own Amazon ad campaign, here are 3 tips to remember.
Shoot for a list of 100+ keywords
This may sound like a lot, but the more keywords you have the greater number of impressions you'll get. Keywords can include:
general search terms/phrases related to your book
similar titles
similar authors
Put yourself into the shoes of your target reader and think about what they would be typing into the search bar.
Keep your bids at a reasonable price when you start out
With Amazon ads, you pay when a consumer clicks on your book, and the amount you pay depends on what you're bidding on the keyword.
The average bid can vary by genre and depends on the popularity of similar titles in your genre. When you first create your campaign, it's best to set your default bid in the following range: $0.30-$0.59. This will keep your campaign from overspending right out of the gate.
Remember, if you have the winning bid, you will only spend $0.01 more than the next highest bid.
Give your campaign some time
It can take an Amazon ad campaign a couple of weeks to find its groove. If you're not seeing results in the first few days, be patient. If you're still not seeing results after the first two weeks, then it might be time to take another look at your campaign.
Are you low on impressions? Add more keywords.
Are you getting high impressions but no clicks? Consider tweaking your cover design, and title/subtitle, or try and get some additional reviews.
Are you getting clicks but no orders? Consider tweaking your product description and adding in A+ Content.
Amazon offers many opportunities for authors to promote their books. Considering the volume of product searches that happen on Amazon, every author should be taking advantage of what they have to offer.
Aryn is a book marketing expert who has worked on campaigns for 100+ books–including several New York Times bestsellers. After 5 years at HarperCollins, she now brings her expertise to any authors and publishers looking to amp up their book launches through her Book Rockstar courses and VIP sessions.
Visit Aryn at:
Connect with Aryn on:
https://www.smithpublicity.com/wp-content/uploads/2022/03/ArynVanDykeHeadshot.png
950
802
Smith Publicity
https://www.smithpublicity.com/wp-content/uploads/2023/02/logo-new-1.webp
Smith Publicity
2022-03-31 14:29:23
2022-09-27 20:31:40
Amazon Marketing Opportunities for Authors