Why Do Authors Choose Smith Publicity?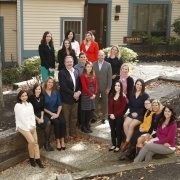 Nearly everyone in the industry knows about us. But if you're a first-time author, new to publishing, and wondering why do people hire Smith Publicity? Here is one author's story to provide insight. Also, we have many Smith Publicity reviews in our testimonials section, and they also cover how and why clients decide to go with Smith.
Author Chrissie Kahan who wrote Roadmap to Navigating Your Child's Disability, gives a glimpse into the process that lead her to our (virtual) doorstep.
A little over a year ago, I had just finished my first book. After doing some research, I determined that I should not only be an indie author but an indie publisher as well. So kingkahan.com was born. I was under the illusion that getting the book completed would be the most difficult part of the process. I had no idea the monster of book marketing that awaited me.
After a lot of research, I made my "to-do list." As I searched how to market my book, I was overwhelmed with the number of offers and companies out there promising to get my book in front of an audience, in turn making me a best-seller, which of course, is the dream. But who to start with and how I could know if these companies were reputable?
Thankfully as I finished my purchase on Bowker for my barcodes, there was a link to marketing your book that went directly to Smith Publicity. I crafted an email right away and was pleasantly surprised when a business development associate wrote me back with their extensive application process, explaining that only after a review of the requirements could your work be considered. In an instant gratification internet world, where marketing companies are taking every book if the price is right, Smith Publicity stood out as one with integrity who would only back projects they believed in.
How Does Book Marketing with Smith Publicity Work?
A week later, I was talking with business development again and signing up for my first campaign with Smith Publicity. Unlike other book publicity companies that just request certain items — taking out the personal connection — Smith Publicity thrives on taking the time to develop a collaborative relationship between the publicist and the client. As a client, you are assigned a publicist who talks with you weekly, takes time to hear the purpose of your project, and advocates for your goal consistently throughout the entire campaign. There are also knowledgeable staff members within Smith Publicity that are available to you to discuss other aspects of the book industry.
Not only do I recommend Smith Publicity as the class act of marketing, but I also commend them for developing such meaningful connections with my publishing dreams that I now consider them family. Since I started as a naive indie author and publisher, I've published four books. Due to the connections and guidance from the team at Smith Publicity, my company has been featured on HLN Weekend Express with Lynn Smith, FOX, CBS, The CW, along with affiliate TV and radio stations all around the world.
So if you want the classiest most caring marketing team promoting your project, Smith Publicity is the one for you. The empty promises offered by other companies at a cheaper price tag are just those; empty promises from people wanting to make a buck off your hopes and dreams. Once you sign with Smith, they're forever in your corner even when your campaign ends.
Chrissie Kahan is an advocate for equity and students with disabilities. As an educator for the past 15 years and an assistant principal for the past 8, she has experience working in partnership with parents, teachers, and related service providers. Chrissie has always had a heart for children, especially advocating for kids who have been labeled as "behavior problems." She is special-education certified and serves as the Individualized Education Program (IEP)/Student Support Team Chair within her elementary school.
She has authored the following books: Benny Gator and Angry Ana, with the purpose of spreading awareness to kids and families regarding the topics of anxiety and anger management. She has also co-authored the book Navigating the Road of Infertility with her husband. This book has been featured internationally, most recently on HLN for National Infertility week. She and her husband have founded the publishing company: King Kahan Publishing, LLC, where they hope to publish books that focus on spreading awareness to real-world issues in a meaningful way.
Learn more about Chrissie Kahan at www.kingkahan.com, and connect with her on Twitter, Facebook, and Instagram.
Roadmap to Navigating Your Child's Disability is available on Amazon and Smashwords.
https://www.smithpublicity.com/wp-content/uploads/Smith-Group-Shot-edited-1.jpg
1024
683
Smith Publicity
https://www.smithpublicity.com/wp-content/uploads/2023/02/logo-new-1.webp
Smith Publicity
2017-09-06 11:28:34
2021-08-08 15:19:54
Why Do Authors Choose Smith Publicity?