Podcast Payoff: How Business Book Author Melanie Parish Launched Her Brand and Platform Through A Podcast Interview Campaign
Author: Melanie Parish
Book: The Experimental Leader: Be A New Kind of Boss to Cultivate an Organization of Innovators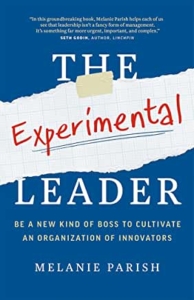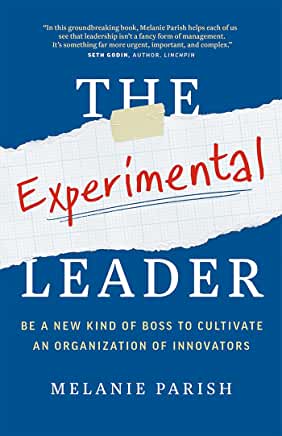 For 20 years, Melanie Parish coached leaders and organizations from entrepreneurs to the C-Level, from IT start-ups to the Fortune 50. She guided them in problem-solving, constraints management, operations, strategic hiring, and brand development.
Melanie wanted to scale her business beyond delivering one-on-one coaching sessions. She wanted to perform more speaking engagements. She wanted to create online programs and education that would apply her expertise without requiring her direct participation.
To achieve these goals, she needed to increase her visibility as a leadership expert.
As a first step, Melanie captured her experience in her book, The Experimental Leader: Be A New Kind of Boss to Cultivate an Organization of Innovators.
With a steady base of coaching and consulting clients, Melanie had never done extensive marketing for her business.
While authoring a book could cement her credibility and amplify her ideas, she knew that publishing a book without a plan to publicize it was simply not enough.
To launch herself as an international leadership expert and speaker, she knew publicity was the path to reach a larger, broader audience.
Melanie's publisher, Page Two, guided her to Smith Publicity to help her elevate her platform and launch her book in early 2020.
Melanie had committed to placing her leadership book in Hudson News at airports when COVID-19 arrived and squashed business travel. She decided to pull her book from Hudson.
Her book launch date was looming, and Melanie needed another way to get in front of readers.
Smith Publicity helped her fill that gap through podcast interviews and byline articles.
Melanie had not considered podcasts as the leading medium for launching her book. She knew little about podcasts and knew less about how to become a podcast guest.
Erin MacDonald-Birnbaum, Melanie's publicist at Smith Publicity, had the expertise at pitching and preparing authors for podcast interviews. Erin knew how to showcase Melanie's unique ideas and experiences to generate interest among the hosts of several podcast programs.
Melanie completed 15 podcasts during her 4-month publicity campaign.
Her interviews began with niche podcasts. And as she grew her podcast experience, prominence, and impact, Melanie was featured on "Dear HBR:", Harvard Business Review's podcast featuring advice on workplace challenges.
When her campaign with Smith Publicity concluded, Melanie had an additional dozen or more interview opportunities still in play.
How does Melanie describe the benefits and results of her campaign with Smith Publicity?
Achieved Clarity. Through the many podcast conversations with hard-hitting interviewers, she achieved clarity on what her brand stood for and who she wanted her company to be. Per Melanie: "The brand is so much more interesting. My visibility is so much bigger now." This video captures the result of the brand work Melanie did.
Launched Her Brand. She developed, launched, and grew her brand. Melanie's take: "I'm no longer a coach who wrote a book."
Obtained New Clients. She gained new clients during the pandemic when she saw other businesses faltering.
Created Valuable Content. From her podcast interviews, she created a vast library of approved, deep content in her voice. Her team has repurposed this content in many other formats, including on social media.
Gained Media Credibility. As a speaker, writer, and thought leader, she has cemented her media credibility through engagements with "Dear HBR:," "Forbes," and "CIO."
Sharpened Her Voice. Melanie intends to grow her business through speaking and workshop engagements. She sharpened those speaking skills through the impromptu nature of the podcast interviews. She even created her own Experimental Leader Podcast following her campaign with Smith Publicity to the enjoyment she found in engaging others on pertinent leadership topics.
Sold More Books. Yes, Melanie sold more books. And by her account, she gained so much more.