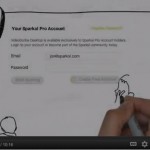 New technology offers authors many ways to add a little pizazz to their book marketing efforts, and savvy authors are taking advantage of them. A new tool on the market is taking author-created promotions to a whole new level by allowing people without any technical or design training to create professional animations that can enhance book publicity.
VideoScribe is a new program that allows users a novel way to make creative animated videos quickly and easily, and better yet, they're offering a free 7-day trial. In just about an hour, you can create a professional looking video that could pump some adrenaline into your book marketing. Although the program is full of useful images that you can incorporate into your animation, you can also import your own, such as an image of your book's cover.
The type of animation created with VideoScribe is frequently called "Whiteboard" or "Fast Drawing," utilizing a stop-motion style that is becoming all the rage. The RSA Animate videos, popular on YouTube, use this same style, where a hand appears to draw the images live. VideoScribe makes it very easy to do, and it incorporates many camera features as well, like zooming or panning from side to side.
All you need to do is simply go to the VideoScribe website and download the program. Have a look at this video to see what the animation looks like, and be sure to check out the instructional videos on YouTube to familiarize yourself with the program's many features and abilities. Your book publicity will take on a whole new dimension.
When you are preparing to create your animation, it's best to keep to one topic and restrict the time. It is also easier to create a storyboard first—including camera movements—as well as a voice over script (which should be interesting and dynamic because you're a writer, right?). That way you'll know exactly what the finished piece should look like before you begin. Finally, choose the background music from one of the many included samples and you've created a masterpiece for impressive book marketing.
https://www.smithpublicity.com/wp-content/uploads/smith-publicity-logo-crop.jpg
0
0
Smith Publicity
https://www.smithpublicity.com/wp-content/uploads/smith-publicity-logo-crop.jpg
Smith Publicity
2012-11-16 03:58:03
2018-12-04 10:04:40
Creating a Professional Video for Book Publicity – Try VideoScribe!