The following post is by Rebecca Fitting, co-owner and head buyer at Greenlight Bookstore and originally appeared on the store's Tumblr. A "buyer" is the person on staff who decides which books and other items to sell in the store.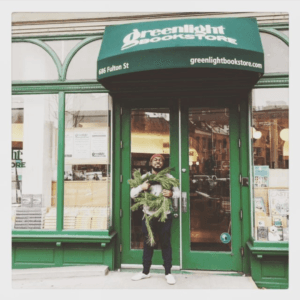 The Holidays at Greenlight: The Buyer's Perspective
As soon as one year ends, you order calendars for the following year (actually, it starts earlier than that - surreally, I ordered our first 2019 calendar two weeks before Thanksgiving.)
Between roughly Spring and Summer, you order all the big Fall books while wearing short sleeves and flip flops.
Then in August you order most of your gifts, games, toys, stationery and holiday cards - the things you don't carry year round but bring in for the fourth quarter. If you don't do this now, a lot of these items will be gone by the holidays - snatched up by like-minded buyers elsewhere.
You gamble and spend an awful lot of money. An awful lot.
September and October: the publishers begin to set the stage, and all the books ship (conveniently timed so that your invoices comes due before the end of the year.) Your inventory bloats and behind your back, as they struggle to find places to put all these books, your staff starts to question what the buyer was thinking.
November: all the gifts, toys and holiday cards that you ordered way back in August come in. I'd like to say they trickle in, but there's nothing discreet about boxes upon boxes of holiday cards and pallets of toys arriving at your bookstore's door. Nothing. Your backroom is overwhelmed. With boxes literally everywhere, your staff again questions what the buyer was thinking, except now they are less polite and don't bother to ask behind your back any more. They are smart. They question your judgement, understandably. Like a confidence man, you simply say 'trust me'.
In early November while watching the boxes roll in on UPS's handcart, you decide whether to gamble again, based on the 'retail climate' (whatever the heck that is…) If you feel bullish, which I did, you do a whole 'nother round of ordering, bringing in more gifts and toys.
You increase your inflection on certain titles, you tweak your selection, you order in all the books your staff has lovingly chosen as books they think would make great gifts for the holidays. You bring them in, in droves. You make tall stacks taller, you order up on 'perennial' books that sell more during the holidays. You snatch up inventory on books you think the publisher will run out of or that you want to flaunt. Pretty picture books, serious topical books, history and biography books, excellent fiction books. You speculate on the award winners and end of year round up lists, and you order, order, order. Put simply, you hoard.
In the two weeks before Thanksgiving, your store then transforms like a peacock, spreading its wares out as if opening its magnificent tail. Your staff unfurls all the books and gifts from their drab cardboard boxes, spreads them out across your store in all their colorful, magical glory, flaunting all that's been lovingly amassed. And then there is the pregnant pause. This magnificent peacock stands stock still on the lawn so that everyone can see it. And you wait, the calm before the crazy. Because of retail necessity, because you need to be 'ready', you've done all this before holiday sales actually kick in.
You fret because you have absolutely no idea how it'll all turn out. It's a giant leap of faith.
Your mantra becomes "books DO make great gifts, books DO make great gifts, books DO make great gifts!" while you wait. You diligently avoid your bookkeeper, quietly hoping it all works out and that sales kick in before too many of the bills come due.
All this for essentially one month of voracious sales.
As a bookstore buyer this year I said: bring it on. This year I was bullish. I gambled big time. Please prove me right by coming to buy all of the books, all of the gifts, all of the toys, all of it. Make Greenlight Bookstore a destination. Our staff (these trained professionals!) wants nothing more than to tell you about the books they adore and to help you find something for everyone on your list, including you. I promise you'll find things you like and even love.
I bought it all for you.
Greenlight Bookstore is a general independent bookstore in the heart of Brooklyn. Their first store opened in 2009 on Fulton Street, and their second location opened in 2016 on Flatbush Avenue. Find out more about them at greenlightbookstore.com.