How an Author and Book Cover Designer Work Together
The importance of a book cover can't be overstated. A cover can make or break the book marketing and book publicity process and affect how many readers pick your book up off the shelf. You have a vision for your book, but communicating that vision to the person designing your book can be difficult.
We talk to Adam Sternbergh, author of The Blinds and Ecco Books Associate Art Director Sara Wood, about how they collaborated on this beautiful, intriguing book cover.
Connect with Sara at www.sara-wood.com
Connect with Adam and purchase "The Blinds" at http://www.adamsternbergh.com
http://www.twitter.com/sternbergh
Find author resources from Smith Publicity at www.SmithPublicity.com
---
TRANSCRIPT: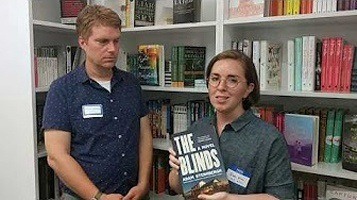 Adam Sternbergh
Hi, I'm Adam Sternbergh, the author of The Blinds, and this is the cover of The Blinds designed by …
Sara Wood:
I'm Sara Wood. I'm Associate Art Director at Echo Books, and I designed The Blinds.
Andrea Thatcher:
So tell us a little bit about the process of working with the author on the book cover.
Sara Wood:
Well, any working with the author is definitely done through the editor. The editor is the go-between. Not only does he guide your work, but he also guides my work. And we're talking about Zach, who's an amazing editor here at Echo. So when I came with initial ideas, Zach could weigh-in, knowing what Adam might've wanted to see on the cover. He knew that he wanted it to be bold. Your previous covers have all been very bold, with great graphics. We knew we wanted this one to do a little bit of texture and grit to it and maybe go with photographic, but it still had to be bold. So we went with a very large typeface, as you can see, something that you might find on an abandoned sign in the desert, maybe a do not enter sign. Do you want to describe a little bit about the story as well?
Adam Sternbergh:
Sure. So The Blinds is about a remote town in rural Texas populated entirely by criminals who've had their memories erased in exchange for testimony. So it's a twist on the witness protection program. And in my initial conversations with Zach, my editor, we talked a lot about the sort of things we wanted the cover to communicate; a sense of isolation, the sense of being in a sort of rural setting, but also you want a sense of danger and that it's thrilling. The problem is that remote can often read as boring, or tranquil, or placid. So that was sort of the conversation I had, which seemed like I was basically setting up a lot of challenges, "Make it like this, make it like this, but don't make it like this. Now go." And then this is what we came up with.
Sara Wood:
Yeah, I mean, that was very exciting for me. I love a challenge. And really, I see my job as making a potential reader ask questions. I want them to look at the cover and say, "What is this about? What's the light coming from within? Why does it feel sci-fi partially? Why does it look a little spooky?" So I knew that I couldn't just have a desolate desert scene. It had to have something else about it. Something a little bit maybe more artistic to draw the reader in. And I think we really achieved it with this cover. I'm pleased with this. Thankfully I think everybody at Echo is pleased with it, and we want to get this book in as many hands as possible. You will not regret it—such a good read.
https://www.smithpublicity.com/wp-content/uploads/youtube-thumbnail-1.jpg
200
357
Smith Publicity
https://www.smithpublicity.com/wp-content/uploads/2023/02/logo-new-1.webp
Smith Publicity
2019-11-15 09:58:56
2022-01-14 17:10:26
How an Author and Book Cover Designer Work Together