How Authors Can Use Twitter to Connect with Readers
Twitter is Excellent for Book and Author Promotion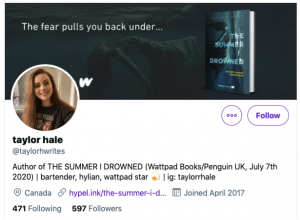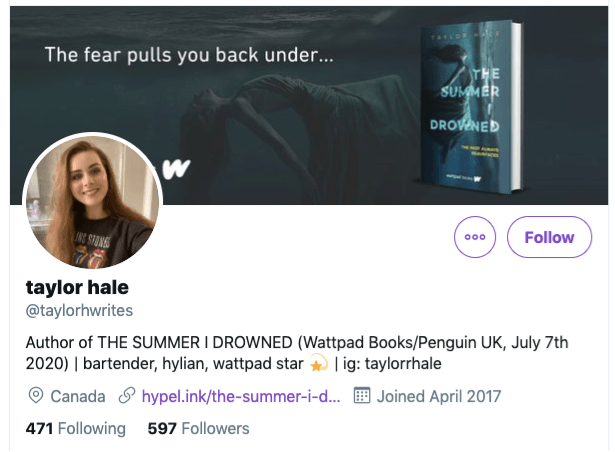 Twitter is a great tool for helping authors build and interact with a loyal, enthusiastic following. When used effectively, Twitter can help authors expand their reach and boost engagement.
Before jumping into the fray, it's important to know the basics and establish a following. See our previous blog post on how to do that here.
Once that following has been established, authors need to know how to use Twitter to promote their books and work, connect with readers, and build a community (hint: it's not all about marketing). So, here are some of our top tips for making the most of Twitter:
Engage with your existing followers
All social media platforms are just that — social. Twitter is more about building a community and interacting with readers than constant self-promotion. Embracing the social aspect of the platform will help you build a loyal following that, when the time comes, will boost the visibility of your new book.
Reply to readers who reach out
Twitter is the number one platform for engagement and reader interaction. When a reader tags you in a tweet, you can like or reply to it to establish a personal connection.
For example, here is an author who is proud to share with her readers how well her book is doing: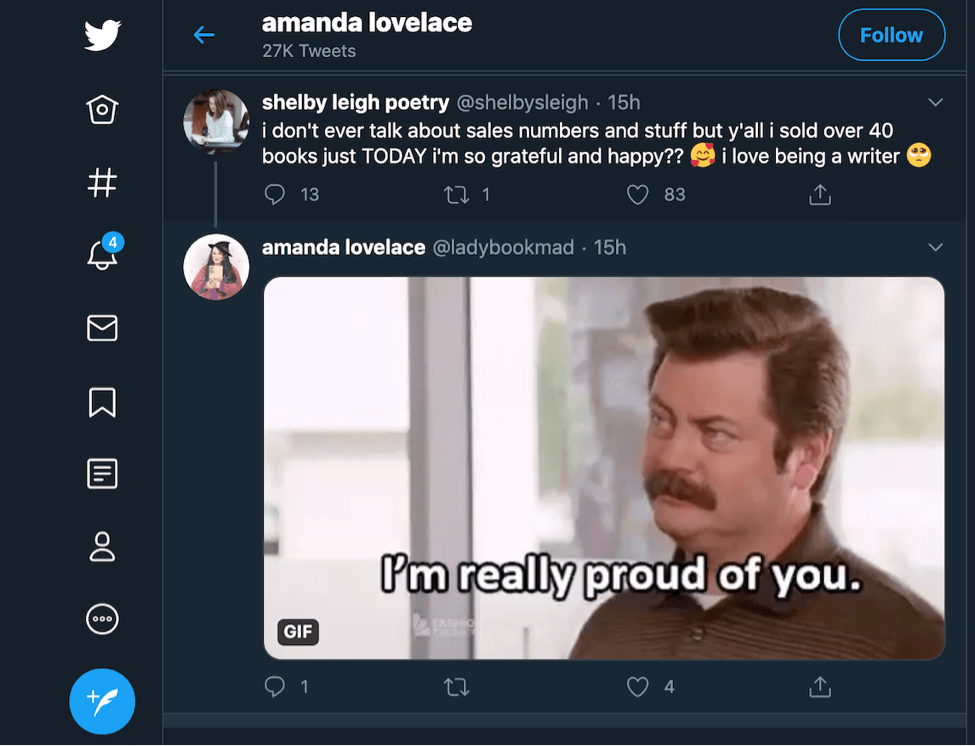 However, there are more ways to engage with your readers than just waiting for them to tweet at you, which leads us to the next tip.
Ask for readers' opinions
One way to interact with your readers is to ask for their opinions. Most book lovers are more than willing to share their opinion — and we all know that Twitter is made for that! Asking for your followers' thoughts and feelings, whether it's for a book recommendation or feedback, is a great way to boost engagement and create meaningful interactions with your readers.
Here's an example of a writer reaching out, using a specific hashtag, to gather opinions on whether or not to move forward with providing a positive endorsement for a book: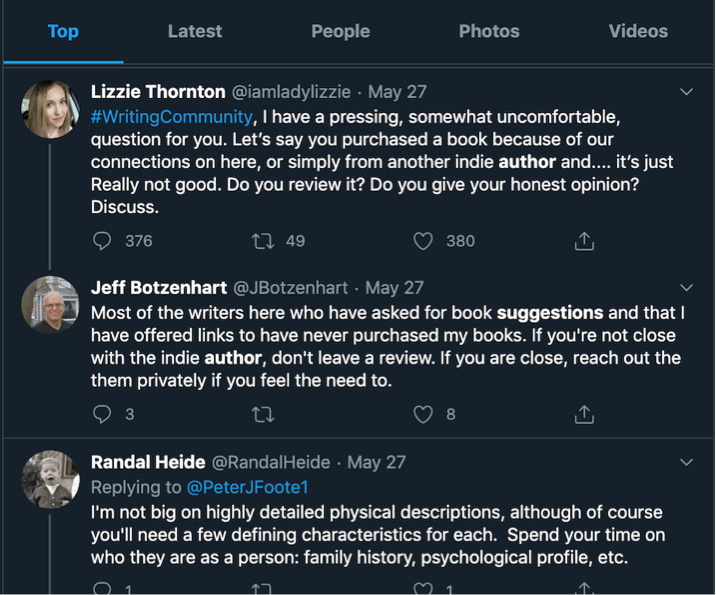 One quick and simple way to crowdsource readers is to use a Twitter poll. The poll feature provides multiple-choice selectors that make it easy to reply.
Here's an example of an author using a Twitter poll: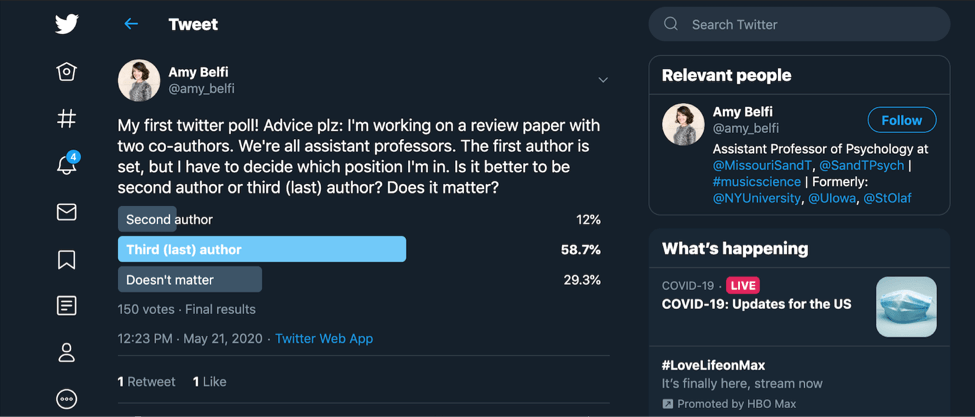 Live Videos on Twitter
Much like Facebook Live and Instagram Live, Twitter broadcasts — powered by Periscope— let you live stream video directly to your audience. Twitter will show the broadcast at the top of your followers' timelines as well as notify them. That kind of exposure drives more viewers and increases the chances of engagement — in fact, tweets with videos such as broadcasts attract 10 times more engagement than those without!
Get involved in trending topics
Tweeting about trending topics is one of the simplest ways to expand your reach on Twitter. By using a trending topic hashtag, your tweet can gain exposure to those outside of your following. Some common hashtags for writers on Twitter include #WritingCommunity, #amwriting, #writetip, and #FridayReads. While hashtags are great, try not to go overboard using them – one or two per tweet is ideal.
Host a giveaway
Giveaways are a great way to reach new audiences on Twitter. Whether it's a free book or some swag, who doesn't enjoy getting free stuff? You can count entries by asking people to follow and retweet, further spreading the message and growing your follower count.
Participate in the writing community
There is so much more to Twitter than just selling books. Twitter is home to a supportive community of writers! Here, you can build an invaluable network of other authors, agents, booksellers, librarians, and more.
Take part in Twitter chats
Twitter chats are an effective way to engage the writing community — they let you personally answer questions readers and authors ask in the chat. It is also an efficient way to keep track of the questions asked with the hashtag. There are many different chats out there for authors. Interact in an existing one such as #WriteChat— or create your own!
Perfect your profile
Your profile will become what people on Twitter associate with your books. Creating a cohesive brand and matching your profile to your brand will be beneficial. Try uploading an interesting header, such as an ad for your next book. Headers are often underused, but they can create brand recognition between you and your books. You can use Canva or another design site to create a header image easily.
Check out Wattpad Books author Taylor Hale and her header profile image: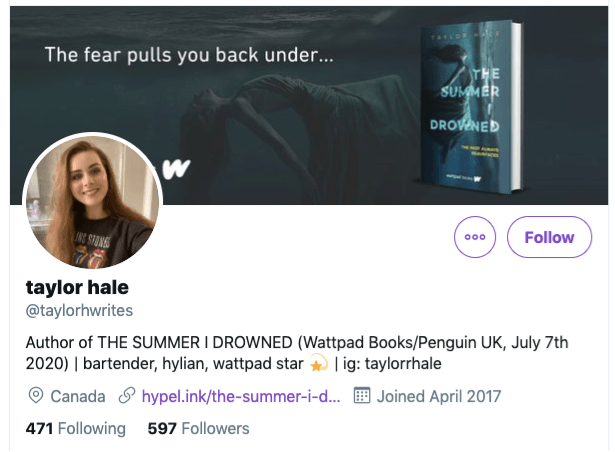 Use the "pinned tweet" feature
A pinned tweet is a tweet that stays "pinned" to the top of your profile, regardless of when it was posted. This means that your pinned tweet will be the first one they see whenever someone views your profile.
Here's an example from an author who uses their pinned tweet to explain what their feed is dedicated to. Other authors pin tweets about their book, where to purchase it, and exciting news about it, such as a book cover reveal or positive review.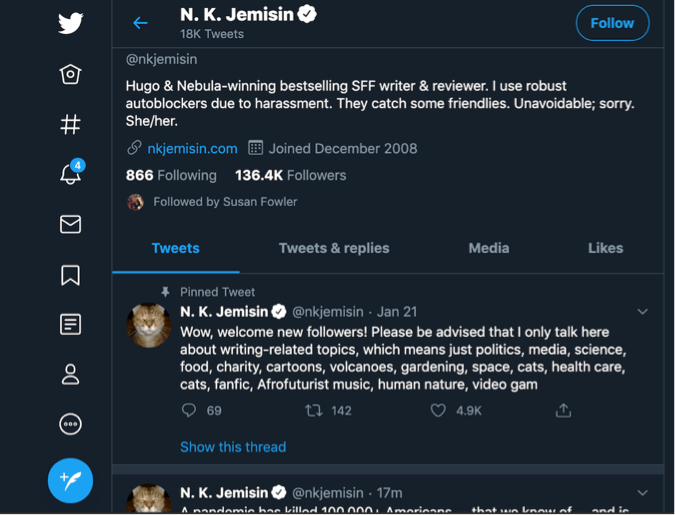 As you can see, Twitter offers many ways for authors to connect with their audience and fellow writers, grow their following, and promote their book. When used to its fullest potential, it can prove to be extremely effective – and fun! – book marketing tool. So, go ahead… get social!
For authors who want to learn more about how to promote a book on social media, our experienced book marketers are here to help. As experts in the field of social media book marketing, our team knows the best practices to promote your book on all major social media platforms. Contact us today to speak with one of our book marketing experts.
https://www.smithpublicity.com/wp-content/uploads/2020/06/twitter-screenshot-1.png
746
975
Smith Publicity
https://www.smithpublicity.com/wp-content/uploads/2023/02/logo-new-1.webp
Smith Publicity
2020-06-29 15:02:48
2022-06-21 00:29:17
How Authors Can Use Twitter to Connect with Readers