Video: Our Book Marketing Services and Staff
Learn More About Our Book Publicity Professionals
Watch our Smith Publicity introductory video to meet our team and learn more about the unique marketing services we offer. Our book publicists are ready to promote your book with exclusive techniques and methods that we've perfected for every genre. Whether your work is self-published or from a traditional publisher, we'll take a look and tell you how we can help. Throughout the video, our book marketers talk about how we work and why you can benefit from our expertise.
"If you're honest and transparent, and if you do business with integrity, authors and our clients appreciate that … it sounds simple, but in practice, it's a very important thing."
Dan Smith, Founder and CEO
Everyone at Smith Publicity understands book PR can be a personal and emotional experience for authors and publishers, both intellectually and financially. We're relationship builders with clients and the media, bringing people and ideas together. Our people take their jobs seriously and work hard to discover and highlight the uniqueness and value of every author and book. It's why we've found success working with thousands of authors since our founding in 1997 and continuing to do so today.
We're About Partnership, Collaboration, and Support
Successful book publicity campaigns begin with listening and learning. During the campaign planning process, from our first day of working with a new author, we're looking for compelling story angles we'll use to attract media interest and earn coverage. Because we bring an experienced team to the table for each project, your book project will benefit from group brainstorming and not rely entirely on the opinions of an individual publicist. Our office doors are open, and we learn from each other daily.
"For us, it's about the story behind the brand. Authors are often sitting on a gold mine of content … we find and unearth those angles so that we can work with clients to achieve [media] coverage."
Corinne Moulder, VP, Business Development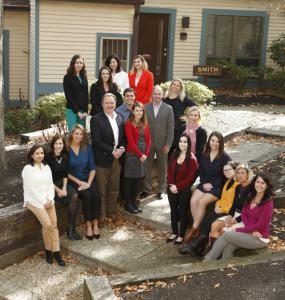 If you're trying to decide between a book PR firm like ours or a solo publicist to promote your book, we can offer many advantages. Our media relationships are among the industry's best, and we know in advance the producers and editors who will have a genuine interest. It helps us make connections and open doors that others find more challenging. One person cannot match a collaborative group working together, each individual bringing their strengths to the project – and our authors benefit.
A Smith Book PR Campaign Can Pay Lasting Benefits
For many authors, the need to promote a book is to achieve the traditional goal of helping to spark sales. But an increasing number of business executives and professionals are becoming authors to promote themselves and their businesses.
Our book publicists are innovators in author branding and personality cultivation to help writers become thought leaders. We open doors for media coverage, speaking platforms, and networking opportunities available to those whose names are better known.
"What makes this job so wonderful is to help authors open up doors through their books and their work."
Sandy Poirier Smith, President
Many independent publishers, content preparation professionals, and others offering services and support to the book industry are close collaborators with our Smith team. While our focus is marketing and publicity, we're advisors and confidantes to our authors and make suggestions and referrals that help advance their work. As more writers publish their work independently and fall outside the orbit of traditional publishers, they need access to the services and expertise their books require.
The Way We Work is Unique Among Book Publicists
No two Smith book marketing campaigns are alike – they are carefully developed and specific to each book and author. Our pitches to the media are fresh and uniquely created to bring out the essence and newsworthiness of each author's work. We can produce superior results every year and work in all genres because of our creativity and resourcefulness. You'll have a dedicated team on your side with many years of collective experience to increase your visibility and help your book be discovered.
"We truly are a family; we care about each other and the work we do and our clients get to see it in action."
Marissa Eigenbrood, Senior Vice President
Your book content inspires us, and in developing a campaign, we'll ask the right questions to help you earn the attention and coverage you deserve. We want you to have a successful experience and also an enjoyable one. Book marketing and publicity programs are a journey with many aspects, each beneficial. If we've done our work well, what you learn along the way may figure into future books and advance your author career. Please watch our video to learn more about us and find out how we can help you today.
https://www.smithpublicity.com/wp-content/uploads/smith-publicity-team.jpeg
300
285
Smith Publicity
https://www.smithpublicity.com/wp-content/uploads/2023/02/logo-new-1.webp
Smith Publicity
2022-07-22 16:09:11
2022-09-14 20:57:59
Video: Our Book Marketing Services and Staff