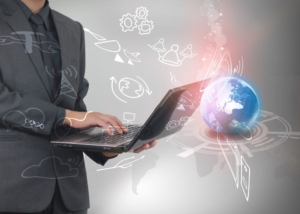 Whether you're a self-published indie author or a NY Times best seller, all authors have the same goal – to get their book in the hands of readers. With hundreds of thousands of books published every year in the United States alone, it's important to formulate a strategic booking marketing plan to help your book stand out from others within your genre.
The Internet, of course, is a valuable tool you can use to promote your book. Today, Americans spend more time than ever surfing the web to connect with others and access information, making it the ideal place to target your audience and generate buzz about your book.
To successfully market your book online, start with these 3 essential tools.
Amazon – As you surely know, Amazon is the top online site for book reviews and purchasing books. It's often the first place booksellers, reviewers, publishers and readers reference to learn more about a book and author. Amazon provides an array of effective tools to promote your book and enhance its discoverability. Through Amazon's Search Inside the Book program, you can share your book's content with potential buyers before they make a decision to buy. This program, as well as adding tags to your Amazon page, can increase your book's searchability on Amazon. Amazon is also a great platform for soliciting reviews. For help promoting your book on Amazon, click here to learn about our Amazon Optimization and Amazon Reviewer services. These services attract readers to your page and entice top Amazon reviewers to post reviews to your page.
NetGalley – NetGalley is another valuable tool for marketing your book. It's a free online service that connects authors and publishers to book reviewers, booksellers, bloggers and educators. At NetGalley, book reviewers and other professional readers can read a book in an e-book or digital galley format. It's a valuable tool for generating buzz about your book before and after it's released. Through a partnership with NetGalley, Smith Publicity offers a service at reduced pricing. Check here for more information.
Goodreads – Goodreads is like a Facebook for book lovers. Users can share what they're reading, review books, and find suggestions on what to read next. Over 30 million book lovers use Goodreads, so it's a great platform for promoting your book. You can create an author biography and list your books, as well as hold book giveaways and Q&A sessions.
Need help utilizing these platforms to promote your book? Smith Publicity can help! Contact us today to learn how we can help your book achieve optimal success. For more book marketing tips, review our ultimate book marketing plan here.
https://www.smithpublicity.com/wp-content/uploads/smith-publicity-logo-crop.jpg
0
0
Smith Publicity
https://www.smithpublicity.com/wp-content/uploads/smith-publicity-logo-crop.jpg
Smith Publicity
2015-03-05 10:32:50
2019-11-01 09:08:18
Top 3 Online Book Promotion Tools