SEO Guidelines for Building Your Author Website
Websites today are an increasingly vital part of book and author marketing. Therefore, when you build an author website, you put a lot of time and energy (and sometimes money) into making it accurate, visually appealing, and informative. But once you've put in all of the time and effort, does it attract visitors? That's where SEO (Search Engine Optimization) comes in. While SEO can be a confusing topic even for people who work in the industry, there are universal best practices you can use on your website to ensure higher rankings and better visibility in search engines such as Google and Bing. Also, always keep mind, the purpose of your content is to be engaging, interesting, and easy-to-understand for search engines –.and people. The people part in tech talk is User Experience (UX), but that's for another article.
Keyword Optimize Your Content
An excellent way to make your site rank for important searches is to optimize it for relevant keywords. In laymen's terms, it means including in your text the words someone might type into a search bar. It's because search engines try to serve up websites in their results to people looking for them. Professional SEO companies perform keyword research to determine how a site ranks in various searches and which searches get more traffic than others. But if you don't have the resources to perform keyword research, start with using your name, book title, and the subject of your book. Then branch out to the words that might describe your book such as genre, topic area (especially for non-fiction), and how your book's information could be used. For example, a good keyword phrase for a dog grooming book might be: How to keep your dog clean and flea free.
Once you've settled on your keywords, there are a few ways to optimize your author website pages and blog posts. Choose one keyword (topic) to optimize for on each page. Keeping things clean and concise is much better than muddying your message going to too many different ideas at once. At least once, make sure to write a text that exactly matches your keyword. For example, a detective story for young adults. Then place those words in as many of these spots as possible:
• The page URL
• The page title
• Around 1% of the page's body text (approximately once every 100-200 words)
• The meta description
• If there is an image on your page, you should include the keyword in the alt text. (search engine readers can't view pictures, so we use alt text to tell them what the image contains. You can enter alt text when you upload an image on most website-building platforms.)
Keyword Optimization for Author Websites: Dos and Don'ts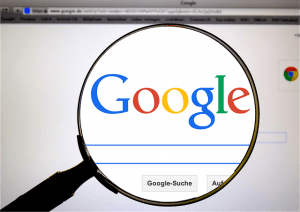 More is not better; don't try keyword stuffing. It the practice of overusing keywords, which search engines will regard as a spammy tactic, and your website will end up under penalty. Keeping keywords around one-percent is the best practice for optimization – it makes clear what your page is about. It also avoids the impression you are trying to rank for a keyword without bothering to be useful and informative about the topic.
Original content is required. When you are building your pages, don't copy and paste from elsewhere, even if it's legal. (The same goes for your work from a different site — don't recycle content.) Posting content that exists elsewhere on the web, word-for-word, creates what is called duplicate content. Search engine companies have been cracking down on this particular issue lately, so make sure you're original and fresh in everything you write.
Earn Backlinks from Other Relevant Websites
What's a backlink? It is a link someone can click on from another website that takes them to a page on your website. Because they backlinks confer an endorsement of sorts on your website, they are valuable in the eyes of search engines. A great way to improve your site's rankings is to make sure there are plenty of other good quality sites linking to it.
You can perform a Google search with your name or book title in quotes – the results will show you places on the web that mention you or your book. You can then reach out to these sites and their authors thanking them for referring you and asking them to include a link to your website with their mention. You can also create your links by setting up profiles on social media sites, social bookmarking sites like Reddit and StumbleUpon, and other brand pages that ask for your website URL.
Make Your Author Website Mobile Friendly
Search engines are well aware of the trend toward greater use of mobile devices — and as a result, they want to serve up mobile-friendly author websites in their search results. Some, like Google, have recently gone as far as stating a preference for mobile-friendly websites. When building your site, make sure you choose mobile-friendly or responsive themes that help you adhere to these technical SEO guidelines.
The point of all SEO is to help search engines provide the best possible results for their searchers — who are your readers. Doing your part to help assure the best experience for online users makes your author website search engine friendly. It will help search engines do their job, and make your website more helpful and relevant to all who visit. Website advice for authors is one of the many book marketing and publicity services we provide at Smith Publicity. Feel free to contact us to find out more about how we can help you sell books and build your author brand.
https://www.smithpublicity.com/wp-content/uploads/computer-767776_640.jpg
426
640
Smith Publicity
https://www.smithpublicity.com/wp-content/uploads/2023/02/logo-new-1.webp
Smith Publicity
2015-10-14 11:30:26
2020-02-27 18:39:31
SEO Guidelines for Building Your Author Website