New Book Marketing Webinar Series from Smith Publicity
"Developing Your Author Brand" is the First on the 2022 Schedule
We're kicking off 2022 by announcing a six-session book marketing webinar series. It's part of Smith Publicity's commitment to making helpful
book marketing services
and publicity knowledge available online to authors, publishers, and others involved in our field.
The webinars will be offered at various times during the coming year, with the first one on author branding set for January 26, 2022. Each session will be led by a veteran Smith Publicity executive and a respected industry partner with relevant expertise for the topic.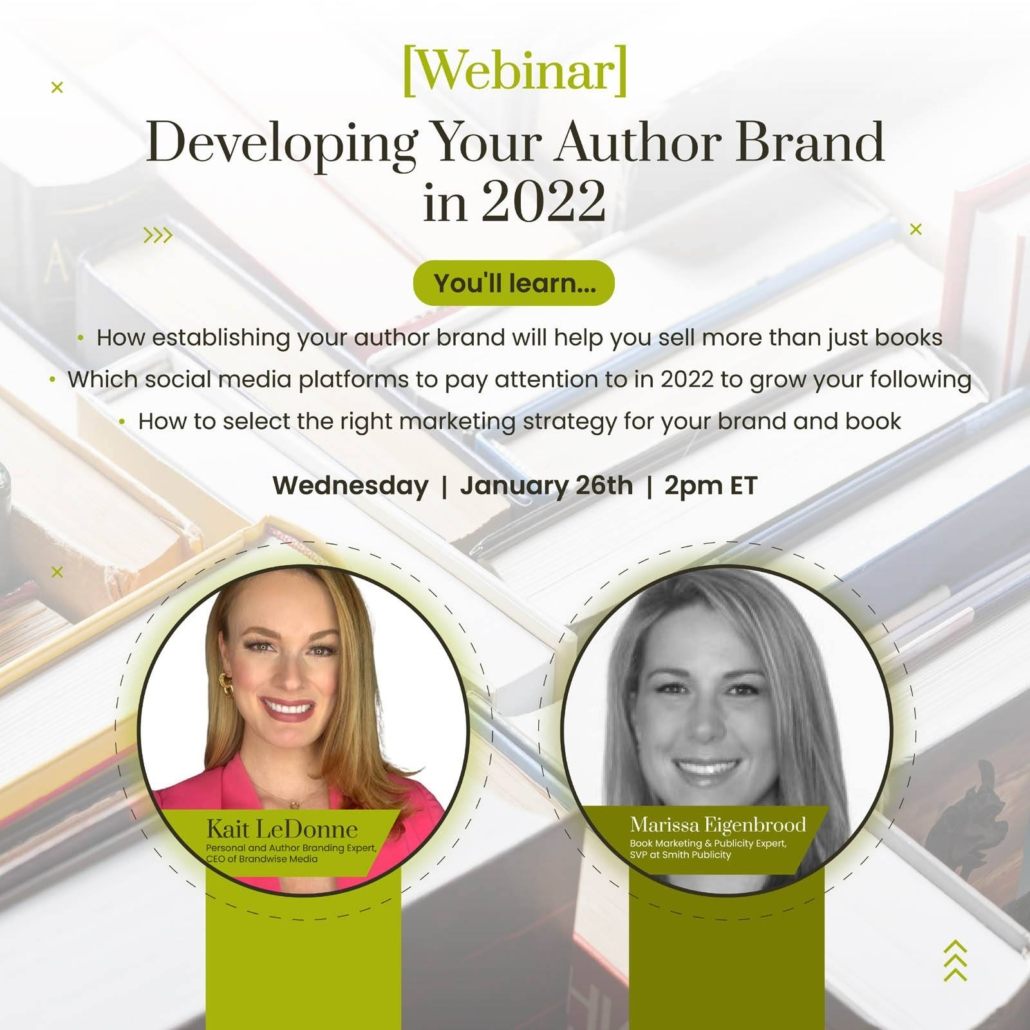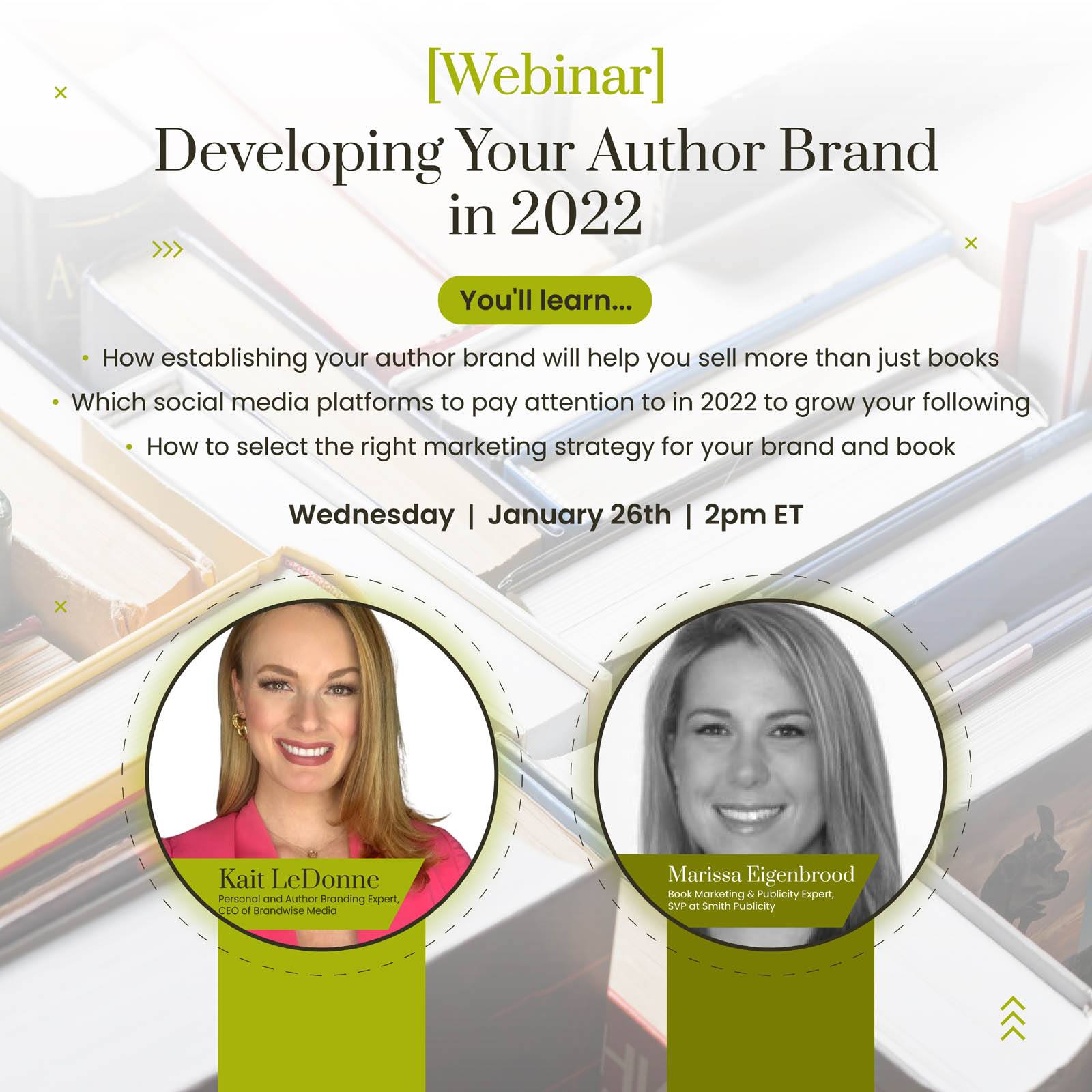 "Developing your Author Brand," features Marissa Eigenbrood, Senior Vice President, Smith Publicity, joined by respected industry partner and personal branding expert Kait LeDonne. They'll discuss the elements that form the foundation of your brand, how you identify and develop its unique attributes, ways to support and expand it using social media while growing your following, and how you finalize the optimal marketing strategy to drive its growth and visibility.
https://us02web.zoom.us/webinar/register/WN_TidqqQhFRO2cL0LfZJB9cg
Learn to establish your author brand to sell more than just books
Prioritize social media platforms in 2022 to increase your following
Select and develop the best marketing strategy for your brand and book
Each session concludes with a question-and-answer session, and participants can submit questions before and during the webinar. When you complete the course, you'll leave with a greater understanding of and appreciation for the value of a well-developed author brand, how to develop one, and how they are beneficial on many levels. The webinar leaders have significant personal branding experience and bring their expertise to the session. With case studies and examples, they will explain first-hand the power of personal brands and how they can be leveraged for maximum impact over many years.
Book Publicity Webinars to Continue Throughout 2022
If you're interested in other book publicity and marketing topics, upcoming webinars will cover additional subjects. Two excellent examples are a session on the foundational elements of book marketing campaigns and how to survive and thrive as an author in the ever-changing book industry landscape. Webinar topics are based on frequently asked questions Smith Publicity receives from authors about various aspects of book promotion and marketing. The partnership with other industry executives for each session expands the knowledge base and naturally provides greater opportunities for information sharing.
Our website, blog, and now the webinar series expand Smith Publicity's position as one of the most trusted and well-known experts on all things book marketing. By combining our knowledge with that of the industry's leading minds covering various topics of interest to authors, we strive to provide actionable takeaways for webinar participants and visitors to our website and blog. The webinar teaching format will be positive, engaging, and conversational; and, each session will offer new information and unique value.
Subscribe to our Newsletter to Stay Informed
A free subscription to our Smith Publicity Power Book Publicity Newsletter will keep you informed about webinar topics and registration opportunities. It's an excellent read to stay informed about trends and opportunities in book marketing. You can also learn more about upcoming webinars by following our social media channels.
https://www.smithpublicity.com/wp-content/uploads/2022/01/12081-webinar-promotion-v003-01-smm.jpg
1600
1600
Smith Publicity
https://www.smithpublicity.com/wp-content/uploads/2023/02/logo-new-1.webp
Smith Publicity
2022-01-18 15:50:43
2022-09-23 05:26:13
New Book Marketing Webinar Series from Smith Publicity