How Authors Can be In-Demand Speakers – Book Marketing Webinar
Many authors are in-demand speakers as one of the opportunities that arise from writing a book. If you're an author or soon to become one, you can learn more in our latest Smith Publicity webinar, "Becoming a Coveted Speaker: How Authors Can Build Their Speaking Confidence, Land an Agent, and be a Part of Successful Events." You can attend online free of charge at 2 p.m. on October 4 or view a recorded version later. The session will be led by Smith Publicity's Senior Vice President Marissa Eigenbrood, joined by Joshua White, Founder, and CEO of Epic Keynotes, and Perry Hooks, President and Co-Founder of Hooks Book Events.
The time you put into attending the webinar on speaking skills for authors will be well spent because it covers a range of topics. They include where (and how) to start your journey to becoming a sought-after speaker and best practices for speaking and making event presentations. The course also covers how to connect your speech to your book with finesse and how you can find and secure representation. Writing books cross-pollinates with many areas of your professional life, and activating them raises not only your stature but also grows your income. Your book and speaking engagements are excellent ways to market your business or professional practice.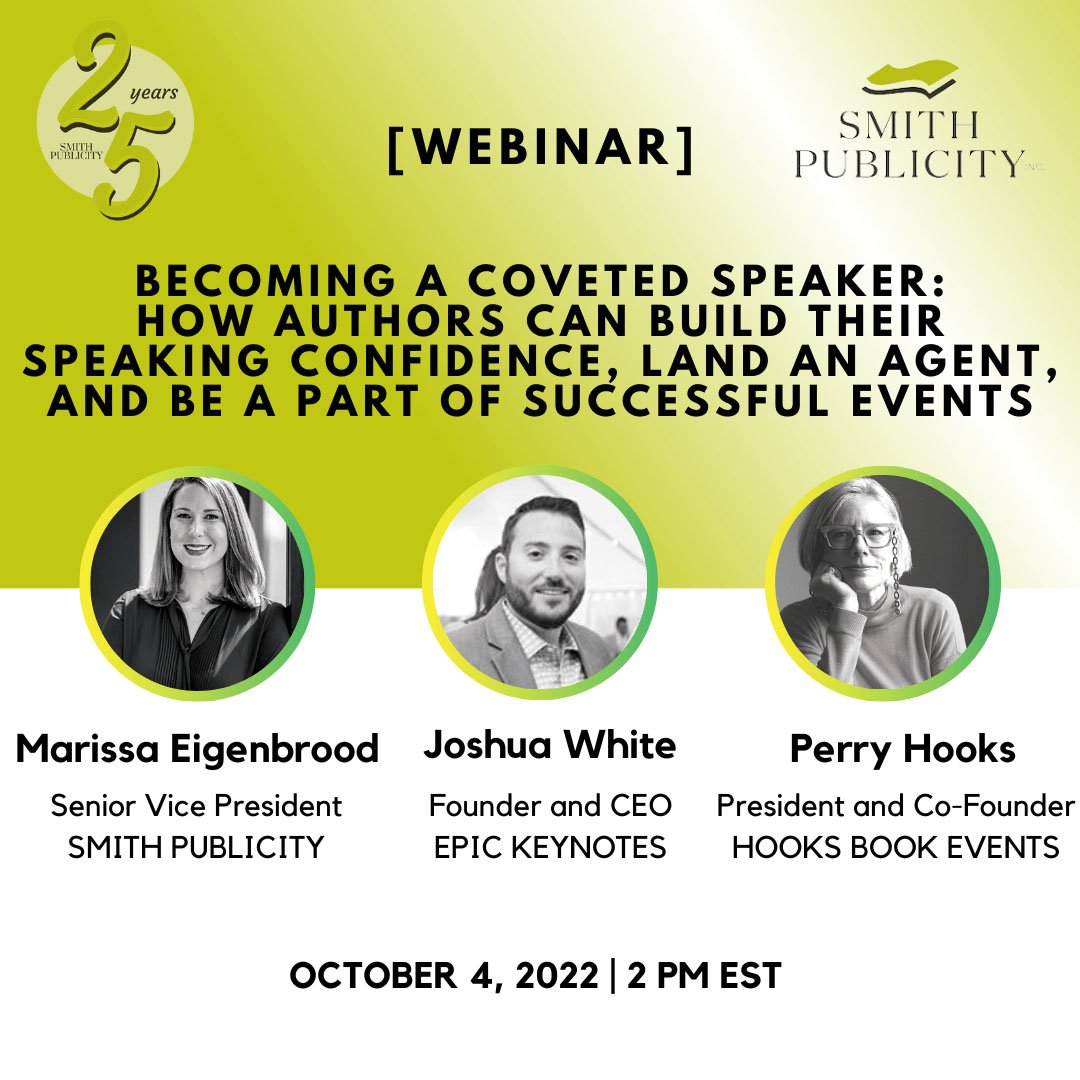 Register Today for the Smith Publicity Webinar
"How Authors Can be In-Demand Speakers"
Tuesday, October 4, 2022 – 2 p.m. (EST)
https://us02web.zoom.us/webinar/register/WN_dquRZcgeTQC57rovmchf3Q
Industry Experts Bring Their Knowledge and Perspective
In our daily work, Smith Publicity helps authors expand their platforms and connect with book industry experts. We're honored to be joined in the webinar by Joshua and Perry, two of the field's finest, to explore the topic of public speaking skills for authors – it's one of the topics about which we receive the most inquiries. The webinar's purpose is to provide authors with helpful knowledge about public speaking skills and opportunities. We want you to finish feeling better informed and empowered to develop your skills in this exciting area.
One of the most popular parts of all our webinars is the question-and-answer session at the end, and this course will be no different. Attendees are invited to ask their questions in an opportunity to speak live with the presenters. Often the questions lead to helpful expansion of the discussion on particular aspects of the webinar and benefit attendees. It also gives the presenters a better feel for the authors attending and what may best serve their needs. By the course's conclusion, everyone will have learned more about public speaking and its role in book marketing and author branding.
We've structured our webinars to include a veteran Smith Publicity executive like Marissa and teamed up with respected industry partners to bring added expertise and perspective. It keeps the discussion lively, and the ideas expressed by each deepen the exploration of the topic. It's all part of our firm's commitment to making information about book marketing widely available online to self-published authors and others with interest. We have been offering courses throughout 2022 and making recordings available for others who wish to view them later.
Smith Publicity is a one-of-a-kind book marketing firm with a leadership position in the publishing industry today. We are proud to have worked with and promoted more than 4,000 authors and books since our founding in 1997. Our Smith team of book publicists devises and implements marketing campaigns for authors ranging from first-time self-published writers to New York Times bestsellers. Our continuing success in nearly every genre confirms our uniqueness and ability to boldly and ingeniously innovate.
Subscribe to the Smith Publicity Email List for Updates and Access to Past Webinars
By subscribing to Smith Publicity's marketing email list, subscribers will receive updates on upcoming webinars and events and access to all past webinars. Information about upcoming webinars will also be available on the Smith Publicity social media channels.
Complete information about Smith Publicity, its staff, and services is available at https://www.smithpublicity.com
https://www.smithpublicity.com/wp-content/uploads/2022/09/october-fifth-webinar-final.jpg
1080
1080
Smith Publicity
https://www.smithpublicity.com/wp-content/uploads/2023/02/logo-new-1.webp
Smith Publicity
2022-09-16 14:36:17
2022-09-19 17:39:23
How Authors Can be In-Demand Speakers – Book Marketing Webinar