How to Launch a Book Successfully – Book Marketing Webinar
Expert Book Marketers Discuss Effective Book Launches
Need to learn more about how to launch a book successfully? If yes, the latest webinar in our series is perfect for you. You can attend for free anywhere you have an internet connection.
The live session of "Prepare to Launch: Key Steps to Ensure a Smooth and Successful Book Launch" is scheduled for August 16, 2023, at 2 p.m. (EDT). Joining live lets you participate in the question-and-answer session at the end. But you can watch a recorded version later if you can't make the time.
Marissa Eigenbrood, President, Smith Publicity, and Publicist Shannon Donaghy will host the hour-long webinar.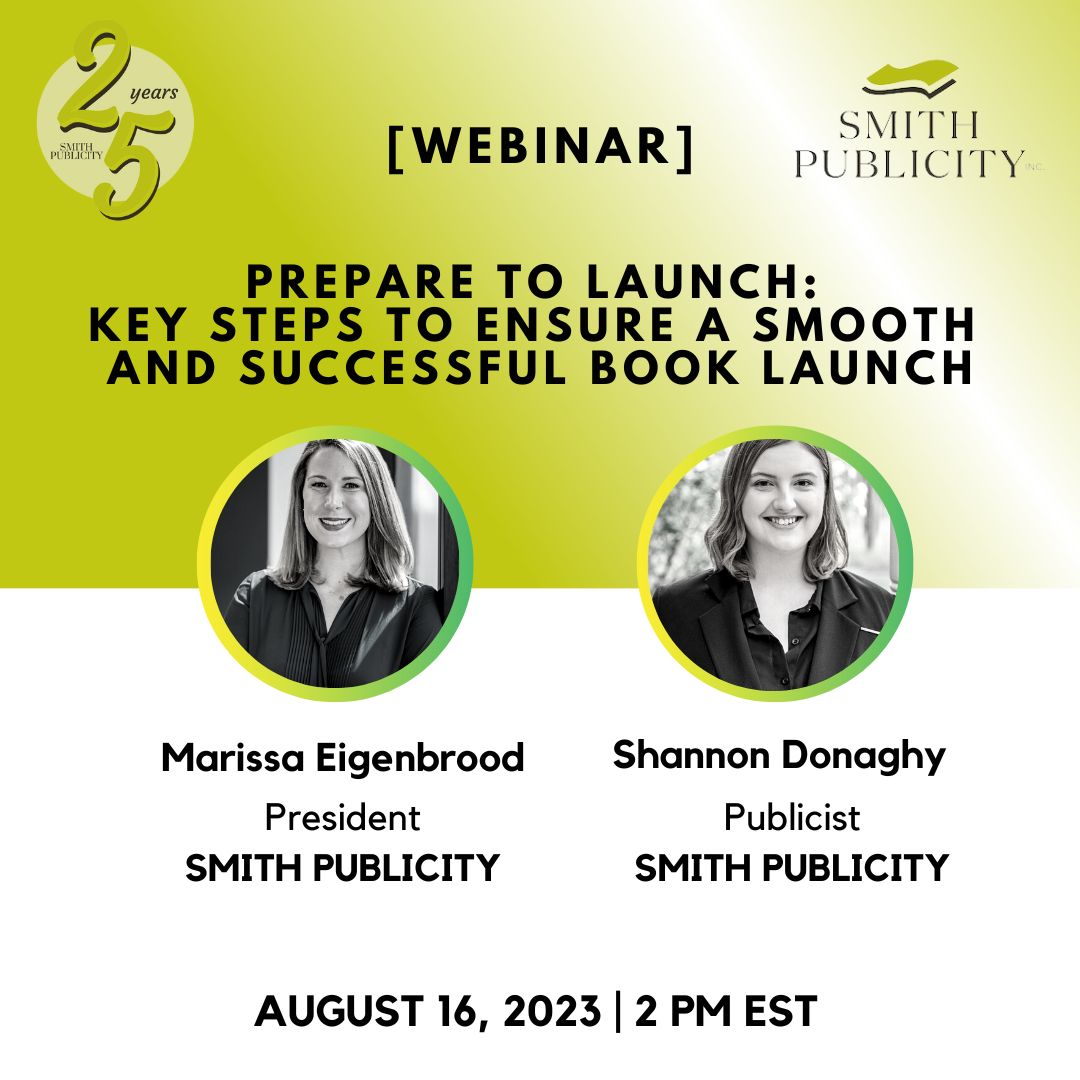 Register Today for the Smith Publicity Webinar
Wednesday, August 16th, 2023 – 2 p.m. (EST)
https://us02web.zoom.us/webinar/register/WN_dquRZcgeTQC57rovmchf3Q
Why Attend and What Will You Learn?
No moment in a book's lifespan is as important as the launch period. It's the time when you need to reach target readers and make your book discoverable to them.
Competition for media coverage and online attention is fierce today, and you need an organized (and thorough) approach to prevail. The webinar content will zero in on what you must do as you launch your book.
Creating timelines and your promotional plan;
The dos and don'ts of book launches based on successful experience; and,
Tips and to maximize every opportunity for success.
Attendees will leave with a clear sense of how to plan a book launch, what the launch process takes, and why defining success for each book and author is essential.
Our Smith Publicity book PR pros work on hundreds of launches annually and have significant expertise to share. The Q&A session at the end provides people attending live to ask questions and receive answers in real-time.
We're Proud to be Leaders in the Field
Now in business for more than 25 years, Smith Publicity continues to pioneer new book publicity and marketing "best practices," including methods for launching books. We understand the impact a strong launch can have on a book and author's future and work to assure success for our clients.
We offer free webinars as a way to give back to the book industry and make our knowledge more widely available online.
Our goal with the webinar is to help authors and their teams find success during the launch period, beginning around the publication date and continuing after that.
More About Smith Publicity Webinars
Our Smith Publicity webinars are led by veteran book marketing professionals joined by other team members or external partners, depending on the topic.
All sessions are offered live one time and recorded for future on-demand viewing. The webinars support our commitment to making book marketing and publicity knowledge available online for authors, publishers, and others connected to the book industry.
More About Smith Publicity
Smith Publicity is the most prolific book marketing firm in the publishing industry today. We have worked with It has worked with and promoted more than 4,000 authors and books since 1997.
Our team of book publicists creates campaigns for authors ranging from first-time self-published writers.
Complete information about Smith Publicity, our staff, and services is available at https://www.smithpublicity.com
https://www.smithpublicity.com/wp-content/uploads/2023/08/August-2023-Webinar-Graphic.jpg
1080
1080
Smith Publicity
https://www.smithpublicity.com/wp-content/uploads/2023/02/logo-new-1.webp
Smith Publicity
2023-08-11 19:10:26
2023-08-11 22:26:29
How to Launch a Book Successfully – Book Marketing Webinar