2022 Book Marketing Webinars Continue with Second Course
"Building a Successful Indie Publishing Team: How and When to Get Started" is the Latest 2022 Webinar
This month, Smith Publicity is continuing its six-session
2022 book marketing webinar series
with a second course. It's the latest installment in our series aiming to make more
book marketing services
and publicity information readily available online. Our webinars are a service to authors, publishers, and others interested in book PR.
This month's session, which will be held on March 30, 2022, is especially timely because it's a how-to tutorial for authors planning to self-publish their work — one of the most dynamic and fast-growing publishing segments today. The format will again feature one of our Smith Publicity executives and respected industry partners.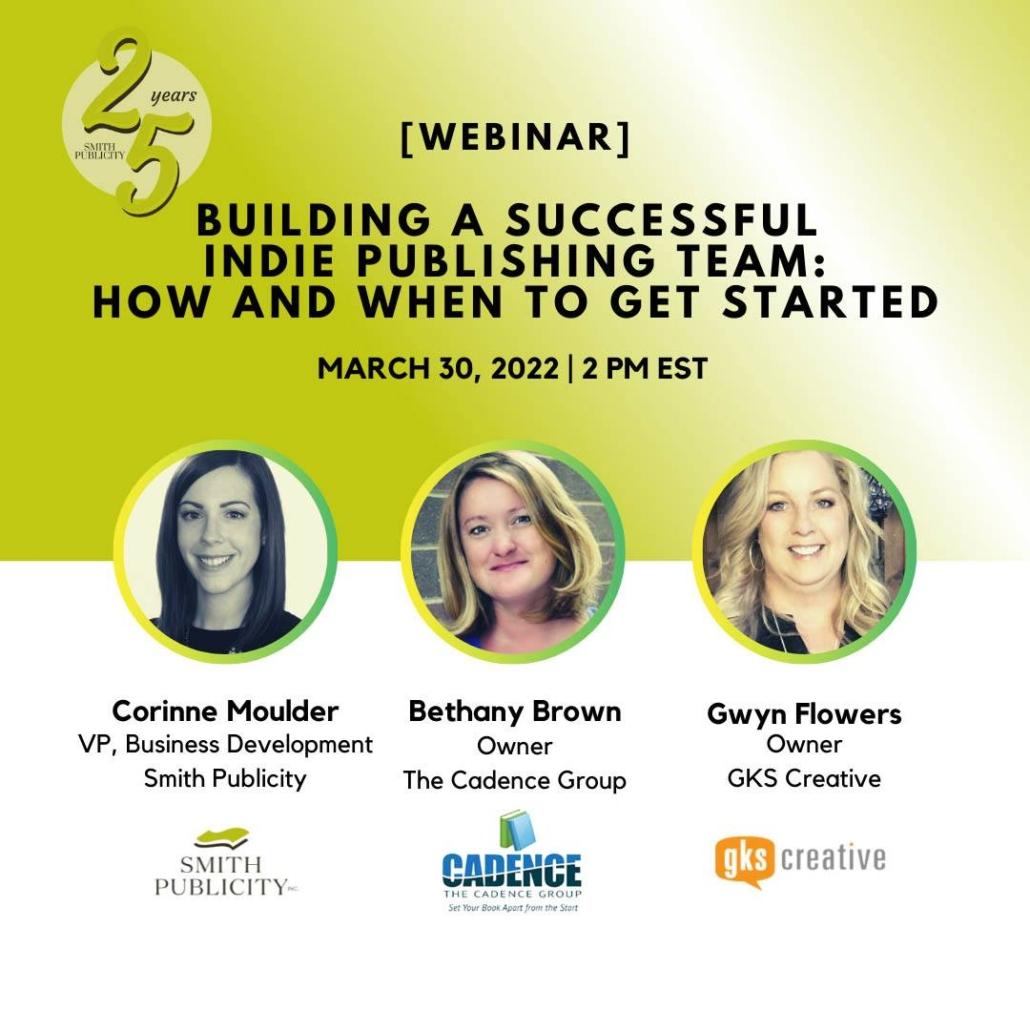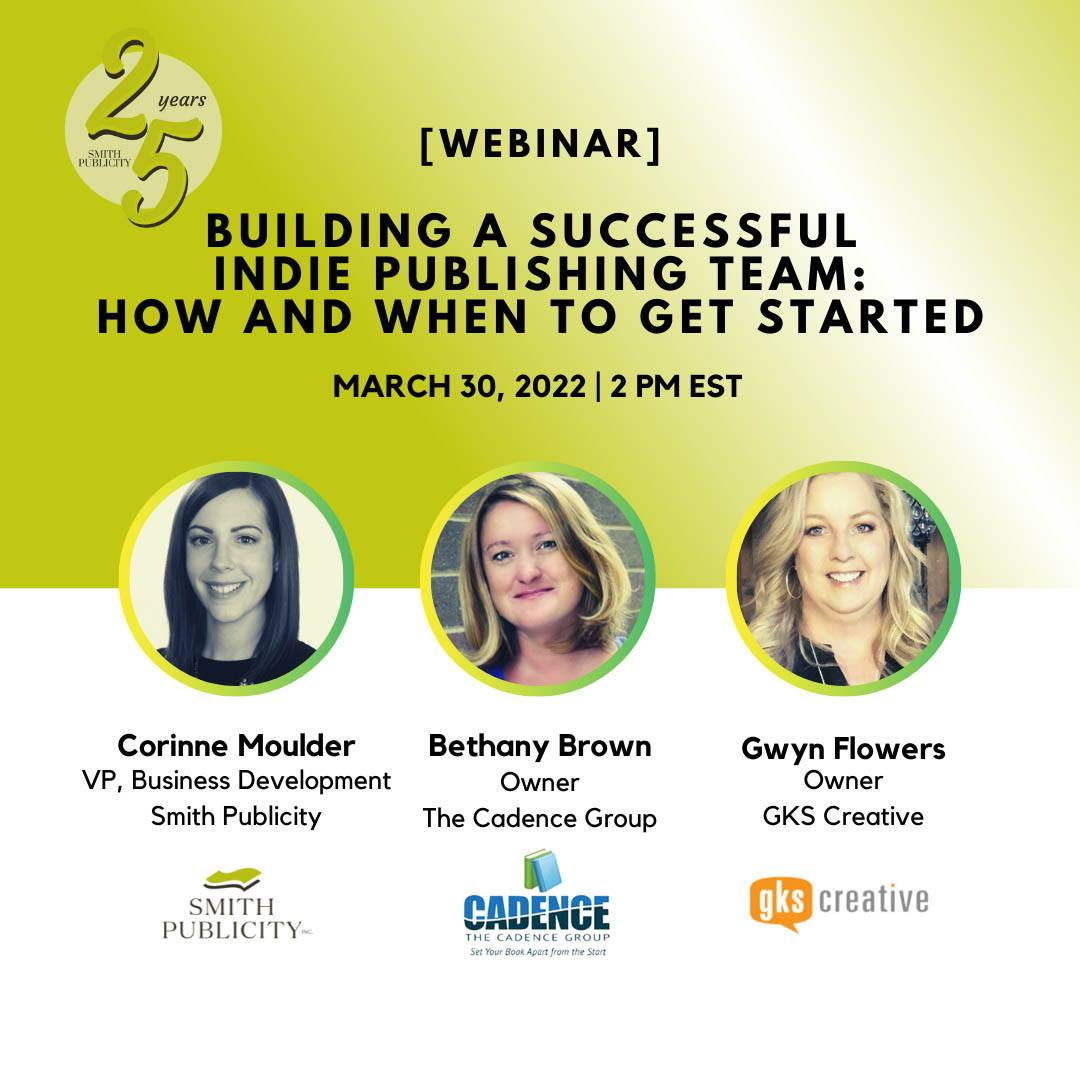 "Building a Successful Indie Publishing Team: How and When to Get Started." features Corinne Moulder, Vice President of Business Development at Smith Publicity, and industry partners and experts Gwyn Flowers of GKS Creative and Bethany Brown of The Cadence Group. Together, they'll describe the essential members of an indie publishing team and discuss how to maximize book launch success through a collaborative approach.
Sign-Up Now for the Smith Publicity Webinar
"Building a Successful Indie Publishing Team: How and When to Get Started."
Wednesday, March 30, 2022 – 2 p.m. (EST)
https://us02web.zoom.us/webinar/register/WN_tOFWcF-RRMml-P32R0mNRQ
Find out how to adapt the traditional publishing model to your needs
Learn to develop and implement a successful publishing plan
Recruit the essential indie publishing members from design to publicity
Our webinars feature a question-and-answer session at the conclusion, and attendees and encouraged to submit questions before or during the Q&A period. After the course, you'll have a clearer understanding of the members you need for your indie publishing team, how to select them, and why collaboration is crucial to your book's success. The webinar leaders have years of experience working as publishing team members and will explain how their partnerships have helped authors succeed. They'll discuss case studies and give real-life examples that authors can use in their publishing team development and planning.
Book Marketing Webinars Will Continue During 2022
Smith Publicity is known for its leadership in the book marketing and publicity sectors, including author branding. The webinars are an opportunity for our executives to share their knowledge in an online forum available to anyone with interest. Upcoming sessions will continue to highlight the foundational elements of book marketing campaigns and advice for authors about thriving in today's fast-changing publishing environment. We're developing webinars to answer the most commonly asked questions about book promotion and marketing.
Our Smith Publicity website, blog, and our 2022 webinars are meant to support our position as one of the most experienced and innovative forces in book marketing. We value the opportunity to combine our knowledge with leading industry experts, and the webinars provide the ideal format. They are upbeat, easy to follow, and conversationally presented. Each course offers unique information of value.
---
Subscribe to the Smith Publicity Email List for Updates and Access to Past Webinars
By subscribing to Smith Publicity's marketing email list, subscribers will receive updates on upcoming webinars and events as well as access to all past webinars. Information about upcoming webinars will also be available on the Smith Publicity social media channels.
---
Sign-Up for Our Smith Publicity Newsletter
If you're interested in marketing, PR, and promotional topics, sign up for our free Smith Publicity Power Book Publicity Newsletter (in the footer). Our Newsletter will keep you updated about future webinar topics and registration opportunities. It's also an excellent way to stay ahead of trends and opportunities in book marketing. You can also learn more about upcoming webinars by following our Smith Publicity social media channels.
https://www.smithpublicity.com/wp-content/uploads/2022/03/March-Webinar-Graphic.jpg
1080
1080
Smith Publicity
https://www.smithpublicity.com/wp-content/uploads/2023/02/logo-new-1.webp
Smith Publicity
2022-03-16 08:43:13
2022-09-22 16:55:58
2022 Book Marketing Webinars Continue with Second Course