Smith Publicity Executive Promotions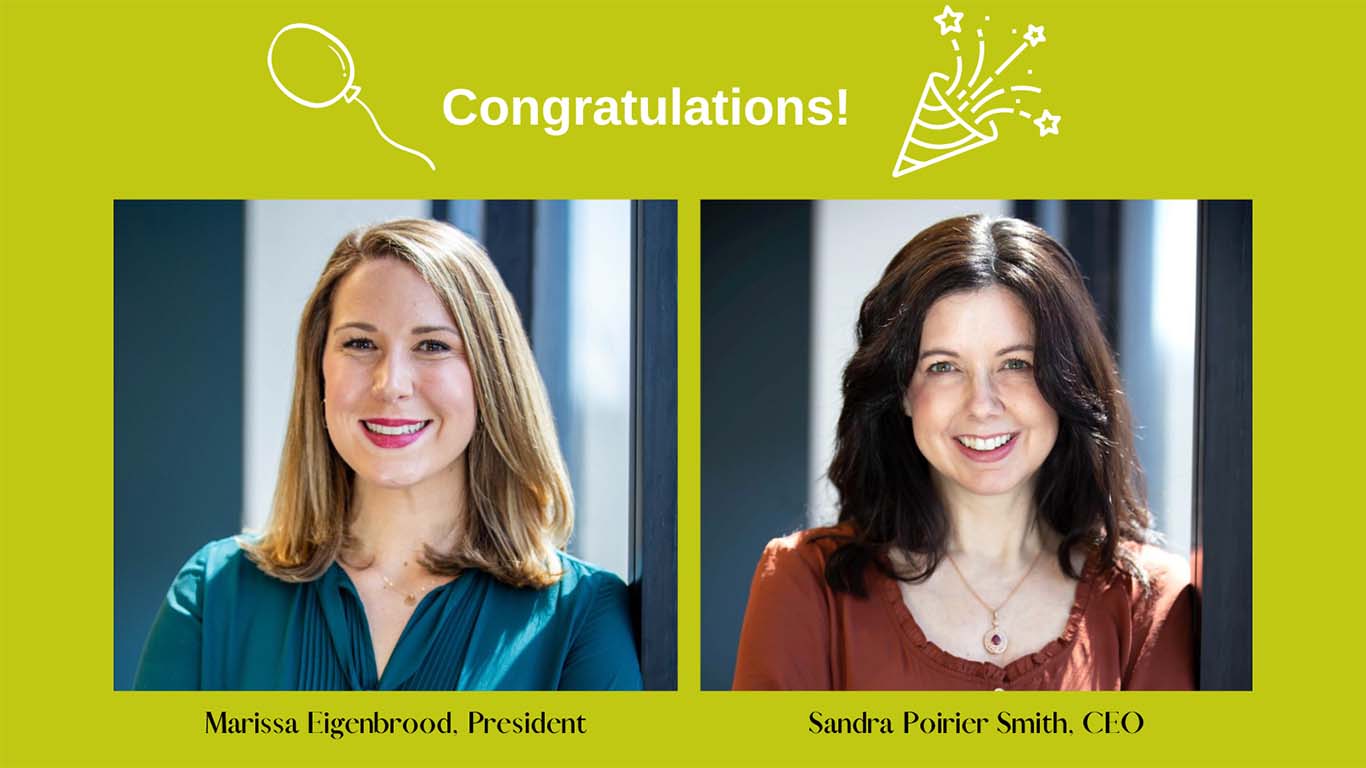 Sandra Poirer Smith is Named CEO and Marissa Eigenbrood is Promoted to President
We're pleased to announce the promotion of two experienced and long-serving Smith Publicity executives to the company's two highest posts. Sandra Poirer Smith has been named CEO, and Marissa Eigenbrood has been promoted to President. Both have impressive track records of success serving our clients, being visible leaders in the book marketing industry, and keeping our company on a steady growth path. They assume their new roles as our firm continues its leadership position in the book publicity field, representing books and authors in all genres.
Smith Publicity founder Dan Smith commented that he feels the company is in excellent hands with the executive promotions noting Sandy's thought leadership in the industry and experience running the company previously as President. He also saluted Marissa's dynamic contributions and long-standing role on the company's senior leadership team. Smith Publicity has grown every year since its founding in 1997, and we're recognized leaders in book promotion services.
Our New CEO and President Each Have Distinguished Careers
Marissa Eigenbrood, President, began her Smith Publicity career in 2009, first as a book publicist and in business development. During the 14 years since then, she has held progressively responsible positions, including senior publicist, director of operations, vice president, and senior vice president. She has played an integral role in developing and overseeing our daily operations and has been an industry leader in the publishing and book marketing communities. Marissa has presented at various industry events—most recently IBPA's Publishing University—as well as lending her perspective and expertise to many podcasts and webinars.
Sandra Poirier Smith, newly appointed as CEO, has contributed her deep knowledge of and passion for the book marketing industry, along with her signature warmth, to Smith Publicity for nearly 20 years. She has been instrumental in the continued growth and advancement of the company, supporting its mission to build visibility for the authors and publishers who are our clients. She also is a prominent voice in the industry, presenting at conferences and appearing on podcasts, webinars, and workshops globally.
Smith Publicity in 2023 is Accomplished and Experienced, Yet Nimble
Although we have been in business for more than 25 years and are well established, Smith Publicity has a fundamentally entrepreneurial spirit. We continue to innovate across the book PR spectrum and are never satisfied with the status quo. Just as we were early to embrace the self-publishing revolution and adapt successfully to the ever-changing media landscape, we continue to identify and lead change. When you work with us, we'll bring best practices and new ideas to your campaign to help you and your book succeed.
Every member of our team shares Sandy and Marissa's enthusiasm for the industry and making good things happen for authors. We're immersed in marketing books daily and bring an unmatched list of media contacts. We also can help with innovative ideas and suggestions to help you and your book earn publicity with traditional and online media coverage. For many authors, our campaigns produce results months and even years after they conclude. If you're planning to publish a book independently or with a publisher and want more information about our campaign options, please use our contact form to reach out.
https://www.smithpublicity.com/wp-content/uploads/2023/01/promotion-announcement-2023.jpg
768
1366
Smith Publicity
https://www.smithpublicity.com/wp-content/uploads/2023/02/logo-new-1.webp
Smith Publicity
2023-01-11 19:49:24
2023-01-14 13:02:03
Smith Publicity Executive Promotions