Earning Money from Thought Leadership for Authors –
Third Webinar on May 25, 2022 by Smith Publicity
Monetizing Your Thought Leadership: Driving Income Beyond Book Sales
We're up to the third course in our six-session
book marketing webinar series
, and it's about expanded income opportunities for authors. It's especially applicable for
nonfiction writers
who have recognized expertise in their fields – a course about how to earn money from your content in addition to a book with "Monetizing Your Thought Leadership: Driving Income Beyond Book Sales." The session is set for May 25, 2022; you can
register
ahead and attend from anywhere with an internet connection.
At Smith Publicity, we're well known for working with business and professional practice leaders on income opportunities connected to their thought leadership. They can follow or coincide with a book marketing campaign. The webinar will feature Smith Publicity President Sandy Smith and industry partner and expert Peter Winick, founder and CEO of Thought Leadership Leverage. Together, they will cite specific ways authors, as thought leaders, can participate in an increasingly lucrative area that presents significant opportunities.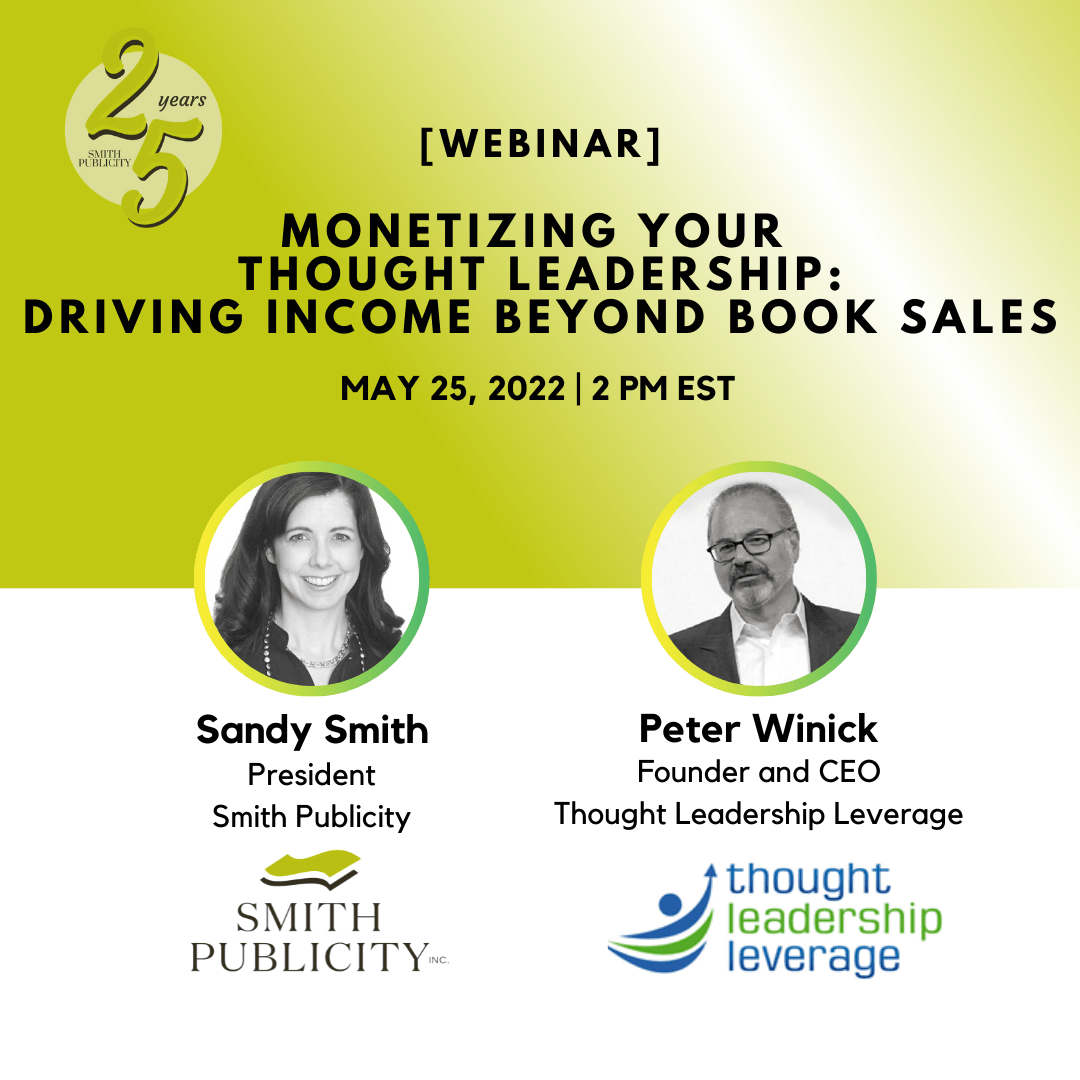 "Monetizing Your Thought Leadership: Driving Income Beyond Book Sales."
May 25, 2022, at 2 p.m. EST
https://us02web.zoom.us/webinar/register/WN_FznzxV7-Q0uQ6VFCNlK-Bg
The webinar will be centered on an informative discussion between Smith and Winick, moderated by Marissa Eigenbrood, Senior Vice President at Smith Publicity. They'll include time for a Q&A with attendees and presenters in the second half of the session. The reception of our first two webinars has been exceptional, and we're thrilled to bring more actionable content to authors and others in the book publishing industry. Our Smith webinar series aims for attendees to become better informed, motivated, and supported in their work.
The successful interactive format for each webinar has it led by one of our executives teamed up with a respected industry partner with deep experience and expertise on the subject. The webinar series supports our commitment to bringing more book marketing and literature publicity knowledge to a broader online audience around the United States, Canada, and elsewhere. They are of service to authors, book publishers, and others in our field.
Smith Publicity is the Book Marketing Leader
We're proud that Smith Publicity is the most prolific book marketing firm in today's publishing industry. We've worked with and promoted more than 4,000 authors and books since our founding in 1997. Our team of book PR pros creates campaigns for authors running the gamut ranging from first-time self-published writers to New York Times bestsellers. Our team works to help authors across a variety of genres succeed by implementing customized and often boldly innovative strategies.
---
Are You Subscribed to Receive Updates and Access to Past Webinars?
When you subscribe to Smith Publicity's email list, you'll receive updates on future webinars and events and access to all past webinars. Or, you can find information about additional webinars on our Smith Publicity social media channels.
---
Sign-Up for Our Smith Publicity Newsletter
If you're interested in marketing, PR, and promotional topics, sign up for our free Smith Publicity Power Book Publicity Newsletter (in the footer). Our Newsletter will keep you updated about future webinar topics and registration opportunities. It's also an excellent way to stay ahead of trends and opportunities in book marketing. You can also learn more about upcoming webinars by following our Smith Publicity social media channels.
https://www.smithpublicity.com/wp-content/uploads/2022/05/May-Webinar-Graphic.png
1080
1080
Smith Publicity
https://www.smithpublicity.com/wp-content/uploads/2023/02/logo-new-1.webp
Smith Publicity
2022-05-08 15:19:56
2022-06-06 03:26:19
Earning Money from Thought Leadership for Authors –
Third Webinar on May 25, 2022 by Smith Publicity