Book Publicity: Look Behind the Scenes with Smith's Experts – Book Marketing Webinar
The First Book Marketing Webinar of 2023
Successfully promoting and marketing books is crucial to their success, as self-published authors and publishers know alike. Attending our free Smith Publicity webinar, "Behind the Scenes of Book Publicity: Trends in 2022, Predictions for 2023, and Your Top Book Marketing Questions Answered," is an easy way to gain valuable insight. Our Smith team's expertise in media pitching is unmatched in the book PR industry, and hearing from the pros about what works and what doesn't can give you a leg up. Having updated knowledge is crucial with the media and online landscapes continually changing.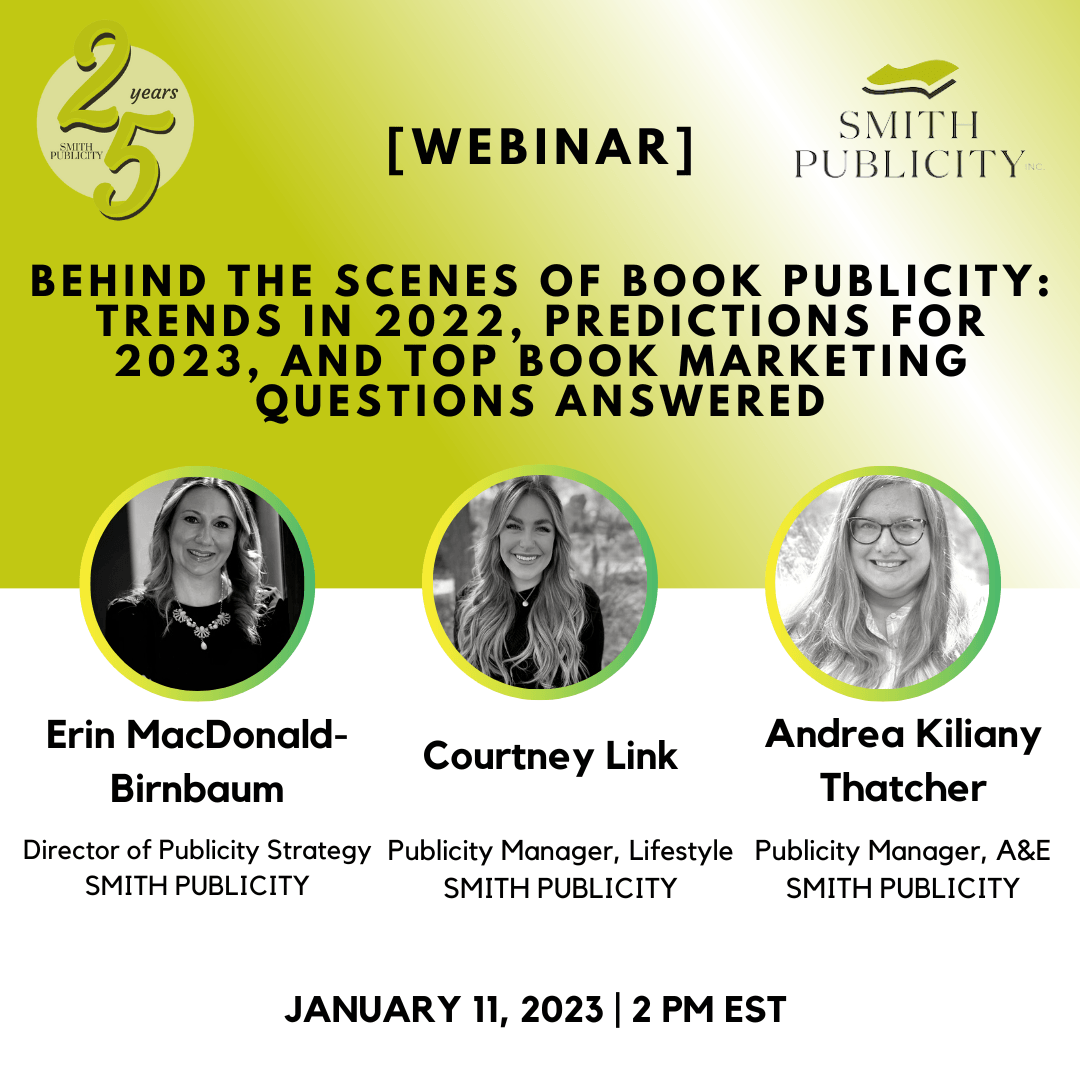 Register Today for the Smith Publicity Webinar
"Book Publicity: Look Behind the Scenes with Smith's Experts"
Wednesday, January 11, 2023 – 2 p.m. (EST)
https://us02web.zoom.us/webinar/register/WN_dquRZcgeTQC57rovmchf3Q
It's great to attend live if your schedule allows; if not, you can still register to enjoy free access to watch on-demand afterward. Janet Shapiro, Vice President, Publicity at Smith, will lead the session and be joined by three others — Erin MacDonald-Birnbaum, Director of Publicity Strategy; Courtney Link, Lifestyle Publicity Manager; and Andrea Kiliany Thatcher, A&E Publicity Manager. All are directly involved daily in marketing books in a wide range of genres. They also have expertise in the increasingly important area of author branding and have developed publicity plans to sell books or accomplish other objectives.
A Book Publicity Question and Answer Session is the Finale
All Smith Publicity webinars are interactive, and the question and answer session at the end is a highlight for many attendees. If you watch live, you're encouraged to bring your book PR question to ask the expert panel. The Q and A session is also a welcome opportunity for us because it's a fantastic opportunity to connect with members of the book community and our industry. We're always ready to discuss current book marketing topics and offer our perspective, insight, and advice. Together with our blog and website, we've planned the webinars to be a valuable source of book marketing information.
Our 2023 webinar series, with a new course, added quarterly, follows the successful launch year in 2022, during which a group of sessions was offered. Past topics have included public speaking for authors; insight into the media and how to earn successful coverage; additional income sources connected to writing a book; building indie publishing teams; and author branding. All are among the most talked-about topics in the book marketing field today and represent areas of significant opportunity for many authors. As the self-publishing revolution continues to transform book PR, Smith Publicity is ahead of the curve.
Book PR Campaigns Create Long-Lasting Opportunities
As authors today publish books for an ever-wider range of reasons, the opportunity to be covered by the media as a thought leader has many benefits. Authors of quality books are held in higher esteem, and it's possible to earn coverage for you (and your business) that would be tough to do without a book. Given the intense competition in many fields today, finding ways to jump-start your marketing program is essential. A book marketing campaign is an excellent way to meet editors and producers who can call on you often. Becoming an expert source trusted by the media can be transformative for you.
If you're weighing the type of publicity and marketing program that's right for you and your book, complete our contact form for more information. We also encourage you to view the webinars that are of most interest to learn more. they'll also give you a feel for some of our team members and the way we work. Our experience and the scope of our Smith Publicity services place us in a solid position to help fiction and nonfiction authors, as well as publishers of all sizes and types, succeed.
Smith Publicity is an innovative and unique book marketing firm with a long history of success in the book publicity industry. Since 1997, we have worked with and promoted more than 4,000 authors and books across many genres. Our team of book publicists offers customized author promotion and marketing campaigns for self-published first-timers to New York Times bestsellers.
Sign up to the Smith Publicity email list to stay informed and access our past webinars. Updates on upcoming events, including webinars, will also be available via our social media channels. To learn more about us and our services, visit https://www.smithpublicity.com/. We look forward to answering any questions you may have!
https://www.smithpublicity.com/wp-content/uploads/2022/12/webinar-6-graphic.png
1080
1080
Smith Publicity
https://www.smithpublicity.com/wp-content/uploads/2023/02/logo-new-1.webp
Smith Publicity
2022-12-22 11:57:48
2023-01-04 08:26:09
Book Publicity: Look Behind the Scenes with Smith's Experts – Book Marketing Webinar